Votre assistant d'art personnel
Voulez-vous acheter un objet similaire?
Nous vous informons volontiers si des objets similaire vendus dans une de nos prochaines vente aux enchères.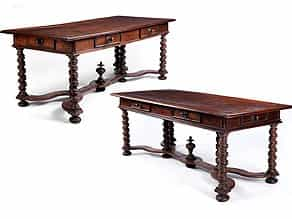 31
Paar äußerst seltene, große Bibliothekstische
Höhe: je 85 cm.
Länge: 232 cm.
Tiefe: 96 cm.
Lombardei/ Veneto, Anfang 18. Jahrhundert.
Prix de catalogue € 35.000 - 38.000 Prix de catalogue€ 35.000 - 38.000 $ 36,750 - 39,900
£ 31,500 - 34,200
元 268,800 - 291,840
₽ 3,567,900 - 3,873,720
Sowohl als Paar, als auch in dieser originalen Erhaltung von großer Seltenheit. Die beiden Tische in massivem Nussholz gearbeitet, die längsrechteckige Platte über geraden Zargen, die an einer Längsseite zwei rahmenkassettierte Schübe aufweisen und an den übrigen Seiten mit gleichgestaltigen Scheinschüben versehen sind. Zugknäufe der Schübe in Holz an gedrehten, runden Scheiben, Zargenecken mit schräg stehenden Profilkanten versehen, verbunden durch die gekehlten, schlanken Profile der unteren Zargeneinfassung. Zargenkasten auf insgesamt sechs säulenförmig gedrehten Füßen über einer Stegverbindung, auf insgesamt sieben gestelzten, gequetschten Kugelfüßen. Von den Eckbeinen ziehen geschweifte Verbindungsstege nach innen zu zwei weiteren, den Zargenkasten tragenden Beinen, verbunden durch den weiterführenden Längssteg mit ovalem Mittelstück, unter dem nochmals ein gequetschter Kugelfuß steht. Darüber aufgestellte, rundgedrehte Vase mit geschnitzter Vase. Die in sich gedrehten Säulenbeine in meisterhafter Drechselarbeit gefertigt, jeweils im Gegensinne spiralig gedreht, wobei die Spiralen im Wechsel von weiteren engeren Schleifen mit begleitenden, feinen Kantenprofilen gearbeitet sind. Die Tischplatte mit gerundetem Randprofil und umlaufendem Fries in Kerbschnitzerei in Form leicht vertiefter Rillen. In einem der Tische zeichnet die Kerbung eine geschweifte Mittelkartusche auf, seitlich an den Schmalseiten flankiert von Stern und Sechspassmotiv. Im Gegenstück eine Mittelkartusche, im Außenfries an jeder Seite eine blattgeschweifte, längsovale, eingeschnittene Kartusche. (871387)


A Pair of Large, Exceptionally Rare Library Tables
Height: ea. 85 cm.
Length: 232 cm.
Depth: 96 cm.
Lombardy/ Veneto, early 18th century.
This object has been individually compared to the information in the Art Loss Register data bank and is not registered there as stolen or missing.
Votre assistant d'art personnel
Vous voulez être informé quand dans nos prochaines ventes aux enchères une œuvre d'art similaire sera proposée? Veuillez activer votre assistant d'art personnel.