Votre assistant d'art personnel
Voulez-vous acheter un objet similaire?
Nous vous informons volontiers si des objets similaire vendus dans une de nos prochaines vente aux enchères.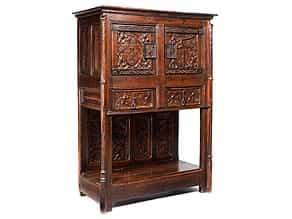 4
Kabinett-Stollenschrank
Höhe: 144,5 cm.
Breite: 104,5 cm.
Tiefe: 49,5 cm.
Prix de catalogue € 25.000 - 30.000 Prix de catalogue€ 25.000 - 30.000 $ 26,250 - 31,500
£ 22,500 - 27,000
元 192,000 - 230,400
₽ 2,548,500 - 3,058,200
Aufbau in massivem Eichenholz, im Oberteil zweitürig, darunter zwei nebeneinanderliegende Schübe, die Front gerahmt von gotischen Eckpfeilern, die zusammen mit der unteren Zarge einen unteren Einstellrahmen umziehen. Das gerade Abschlussgesims mit Hohlkehle nur leicht vorkragend, die Eckpfeiler am oberen Abschluss wappenförmig abgeschrägt, darunter Schuppendekoration sowie nach unten fortgesetzt in sich gedrehte Pfeilerhohlkehlen über schräg stehenden, schlanken Vierkantsockeln. Die beiden Türen in Art von Kassetten vertieft, eingefasst von schlanken Hohlkehlenprofilen, zeigen jeweils ein Wappen, umzogen von Blattwerk und Trauben. Im linken Wappen französische Lilien, im rechten das Wappen, halbiert mit Lilien- und Eichelmotiven. Beide Wappen mit reliefgeschnitzten Lederriemen mit Gürtelschnallen, rechts Wappenzier in Form eines Armes mit einer Streitaxt. Die beiden Schübe entsprechend im Relief dekoriert, mit Zierwappen umgeben von Weinblättern und Trauben. An den Seiten Stofffaltenschnitzerei, die Rückwand des unteren Einstellfaches vierfach kassettiert mit entsprechenden floralen Schnitzereien. Das schöne Beschlagwerk in Schmiedeeisen mit Eisenschnitt, die über die Türbreite gänzlich hinwegziehenden Bänder im Maßwerk durchbrochen gearbeitet, von rotem Leinenstoff unterlegt, ebenso die beiden Türschlossbeschläge, leicht hochrechteckig mit unterschiedlichen Maßwerk- bzw. Blattdekorationen. Die beweglichen Zughenkel der Türen in doppelter Schlaufenform geschmiedet. Der Möbeltyp weist im Stil nach Ostfrankreich, in die Zeit des ausgehenden 15. Jahrhunderts. Während der Grundaufbau dieser Möbel im gesamten europäischen Raum zu finden ist, ist hier die Ausarbeitung, aber auch die zierlichere Proportion ein Hinweis auf den typisch französischen Möbelstil dieser Zeit. Zwei Schlüssel vorhanden. (860407)


Four-Legged Cabinet "Stollenschrank"
Height: 144.5 cm.
Width: 104.5 cm.
Depth: 49.5 cm.
This object has been individually compared to the information in the Art Loss Register data bank and is not registered there as stolen or missing.
Votre assistant d'art personnel
Vous voulez être informé quand dans nos prochaines ventes aux enchères une œuvre d'art similaire sera proposée? Veuillez activer votre assistant d'art personnel.