Votre assistant d'art personnel
Voulez-vous acheter un objet similaire?
Nous vous informons volontiers si des objets similaire vendus dans une de nos prochaines vente aux enchères.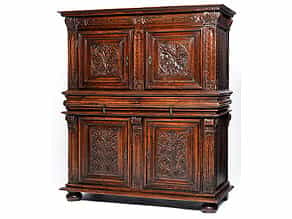 42
Seltener, musealer Kabinettstollenschrank
Unterbauhöhe: 88,5 cm.
Aufsatz: 66,5 cm.
Gesamthöhe: 155 cm.
Breite: max. 133,5 cm.
Tiefe: max. 52 cm.
Frankreich, Ende 16. Jahrhundert.
Prix de catalogue € 15.000 - 18.000 Prix de catalogue€ 15.000 - 18.000 $ 16,200 - 19,440
£ 13,500 - 16,200
元 111,900 - 134,280
₽ 1,256,400 - 1,507,680
Aufbau in massivem Nussholz, zweiteilig, Unter- und Oberbau jeweils zweitürig. Umlaufendes, leicht vortretendes Fußgesims mit Profil über gequetschten Kugelfüßen. Zwischen Ober- und Unterteil stark gewellte Profilzarge, in die zwei Schübe in der Front unmerklich eingeschnitten sind. An den Ecken und zwischen den Türen Lisenen mit Schnitzdekoration in Form von gefiederten, langgezogenen Blättern, oben jeweils halbrund geschlossen, darüber Zahnfries und Akanthusblattkämpfer, die im Oberteil das nur leicht vorkragende, gerade Abschlussgesims tragen. An den Seiten entsprechend dekorativ fortgesetzt. Die oberen Türen nehezu quadratisch, kassettiert, im erhabenen Innenquadrat reliefgeschnitzte, spiralige Blattrosette, durch glattes, geschnitztes Band rund umzogen, an den verbleibenden Ecken Akanthusblätter. In den unteren Türen stilisierte Baummotive mit akanthusförmigen Blättern. Originale Eisenschlösser, die Schlüsselbeschläge in Eisen geschmiedet, mit Blattdekoration. Die hängenden, keulenförmigen Zuggriffe der Schübe ebenfalls in Eisen. Im Inneren ein Fachbrett. Zwei Schlüssel vorhanden. (860403)


A Rare Museum-Quality, Four-Legged Cabinet "Stollenschrank"
Total height: 155 cm.
Width: max. 133.5 cm.
Depth: max. 52 cm.
France, end of the 16th century.
This object has been individually compared to the information in the Art Loss Register data bank and is not registered there as stolen or missing.
Votre assistant d'art personnel
Vous voulez être informé quand dans nos prochaines ventes aux enchères une œuvre d'art similaire sera proposée? Veuillez activer votre assistant d'art personnel.