Vente

Tableaux du XVI - XVIII siècle
Votre assistant d'art personnel
Vous êtes intéressé par des œuvres de Jakob Ferdinand Voet?
Nous vous informons volontiers si les œuvres d'art de Jakob Ferdinand Voet vendus dans une de nos prochaines vente aux enchères.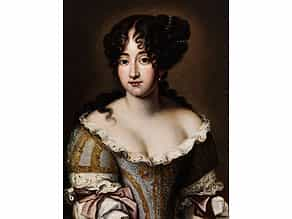 240
Jakob Ferdinand Voet,
1639 Antwerpen - 1689, zug.
PORTRAIT EINER JUNGEN ADLIGEN DAME Öl auf Leinwand.
66 x 50 cm.
In einem alten, brünierten Rahmen mit goldener,
reliefierter Innenleiste.
Prix de catalogue € 6.000 - 8.000 Prix de catalogue€ 6.000 - 8.000 $ 6,480 - 8,640
£ 5,400 - 7,200
元 44,760 - 59,680
₽ 502,560 - 670,080
Halbbildnis, die junge Dame mit gelocktem, dunkelbraunem Haar, seitlich hochgesteckt und mit Perlenkette durchflochten, am linken Ohr eine große Perle. Die weit geöffneten, interessierten Augen nehmen den Bezug zum Betrachter auf, die Lippen fein modelliert, das Inkarnat an den Backen leicht gerötet. Tiefer Ausschnitt des Mieders, eingefasst mit Spitze, das Mieder in einem taubengrauen Brokat mit goldenen Brokatbordüren, an den Spitzenärmeln rosafarbene Schleifen. Der Gesichtsausdruck äußerst anmutig und lebensnah, trotz der wohl üblicherweise ins Modetypische der Zeit versetzten Erscheinung. (842353)
This object has been individually compared to the information in the Art Loss Register data bank and is not registered there as stolen or missing.
Votre assistant d'art personnel
Vous voulez être informé quand dans nos prochaines ventes aux enchères une œuvre d'art de Jakob Ferdinand Voet sera proposée? Veuillez activer votre assistant d'art personnel.