Vente

Tableaux du XVI - XVIII siècle
Votre assistant d'art personnel
Vous êtes intéressé par des œuvres de Candido Vitali?
Nous vous informons volontiers si les œuvres d'art de Candido Vitali vendus dans une de nos prochaines vente aux enchères.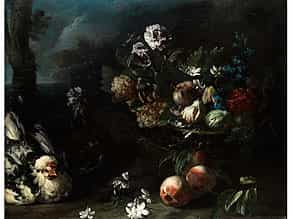 241
Candido Vitali,
1680 - 1753
STILLEBEN MIT FRÜCHTEN IN EINEM KORB UND ZWEI HÜHNERVÖGELN
Prix de catalogue € 20.000 - 30.000 Prix de catalogue€ 20.000 - 30.000 $ 21,800 - 32,700
£ 18,000 - 27,000
元 158,200 - 237,300
₽ 1,899,000 - 2,848,500
Öl auf Leinwand.
62 x 79 cm.

In abgedunkelter Abendstimmung, die Gegenstände hell aufleuchtend, im rechts stehenden Korb helle Trauben neben Feigen, Apfel, Weinblättern und Sommerblumen, davor zwei Pfirsiche neben Jasminblüten. Links Hahn und Henne in lockerem Gefieder, am linken Bildrand als Repoussoir ein kräftiger Baumstamm, dahinter Blick auf eine Meeresfläche im Dunkeln mit leicht aufleuchtendem Horizont. Qualitätsvolle Malerei in flotter Pinselführung. Die meisterhafte Qualität des Bildes rechtfertigt die genannte, in der Expertise ausgeführte Zuweisung.

Expertise:
Dem Gemälde ist eine Expertise von Professor Giancarlo Sestieri, Rom, vom 19.04.2004 beigegeben. Mit mehreren Vergleichsbeispielen und dem Literaturverweis vor allem L. Salerno, in: La natura morta italiana, Roma, 1984, sowie A. Colombie Ferretti, in: La natura morta in Italia, Milano, 1989.
Der Autor des Gutachtens führt einige Gemälde des Malers an, jeweils monogrammiert "C. V. F.", die sich etwa in der Galleria di Storia ed Arte in Udine befinden, dabei wird auch D. Benati zitiert mit seinem Einführungstext zu "Natura mortista" von Bologna aus dem Band La natura morta in Emilia e Romagna, Mailand, 2000, S. 122 - 134. (8514044)


Candido Vitali,
1680 - 1753
Oil on Canvas.
62 x 79 cm.

Expertise:
To the painting is added the expertise from Professor Giancarlo Sestieri, Rome on 04.19.2004.
This object has been individually compared to the information in the Art Loss Register data bank and is not registered there as stolen or missing.
Votre assistant d'art personnel
Vous voulez être informé quand dans nos prochaines ventes aux enchères une œuvre d'art de Candido Vitali sera proposée? Veuillez activer votre assistant d'art personnel.