Vente

Sculptures et Haute époque
Votre assistant d'art personnel
Voulez-vous acheter un objet similaire?
Nous vous informons volontiers si des objets similaire vendus dans une de nos prochaines vente aux enchères.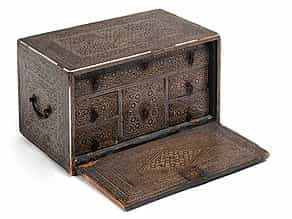 659
Seltenes, äußerst fein gearbeitetes, orientalisches Kabinettkästchen
Höhe:19,5 cm.
Breite: 21,5 cm.
Länge: 32 cm.
Persien, 17. Jahrhundert.
Prix de catalogue € 7.500 - 9.000 Prix de catalogue€ 7.500 - 9.000 $ 8,100 - 9,720
£ 6,750 - 8,100
元 57,825 - 69,390
₽ 743,775 - 892,530
Rechteckiger Aufbau mit geraden Wänden, allseitig in feiner Miniaturmosaikarbeit dekoriert mit felderbildenden Band- und Fadeneinlagen, unter Verwendung von Elfenbein, Ebenholz, Sandelholz, Messing und orientalischen Zierhölzern. Auf dem Deckel sechszackiger Stern im Rechteckfeld, an Front und Seiten Rautenmotive. Die Kanten des Kästchens mit feinen Elfenbeinstäben besetzt, seitlich bewegliche Bronzetragehenkel. An der Frontklappe mandorlaförmiger Schlüsselbeschlag in Goldtauschiertechnik, floral dekoriert. Deckelinnenseite ebenso in der genannten Weise mit feinem Mosaikintarsienwerk bearbeitet. Das Schlossinnenblech entsprechend goldtauschiert. Einbau von einem größeren Mittelschub, flankiert von zwei kleinen Seitenschüben mit darüber liegendem, längerem Schubfach. Ovale, bewegliche Zugknäufe in Bronze, Schubinneres braun ausgefasst. Schlüssel fehlt. Altersbedingt besch. (840521)
This object has been individually compared to the information in the Art Loss Register data bank and is not registered there as stolen or missing.
Votre assistant d'art personnel
Vous voulez être informé quand dans nos prochaines ventes aux enchères une œuvre d'art similaire sera proposée? Veuillez activer votre assistant d'art personnel.