Vente

Sculptures et Haute époque
Votre assistant d'art personnel
Voulez-vous acheter un objet similaire?
Nous vous informons volontiers si des objets similaire vendus dans une de nos prochaines vente aux enchères.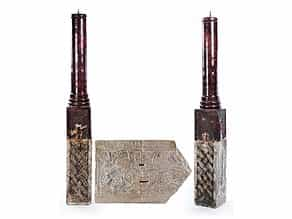 619
Paar Porphyr-Säulen eines romanischen Ambo oder Lettners
Sockelhöhe: 90 cm.
Gesamthöhe: 200 cm.
Romanisch, 12. Jahrhundert.
Prix de catalogue € 45.000 - 55.000 Prix de catalogue€ 45.000 - 55.000 $ 47,250 - 57,750
£ 40,500 - 49,500
元 345,600 - 422,400
₽ 4,587,300 - 5,606,700
Die Rundsäulen in einem Stück mit den hohen, quadratischen Sockeln gemeißelt, mit kurzem Kapitellring und zweifachen Basisringen in rotem, ägyptischem Porphyr mit rosafarbenen Einsprenkelungen. Die hohen Sockel jeweils an zwei Seiten mit verbindungsvertiefenden Rillen versehen, an den Schauseiten mit Flechtbandornamentik dekoriert sowie ein Kreuzsymbol. Die Säulen stammen aus der Kirche San Cataldo/ Palermo. In den unteren Teilen rest. Erg. (8111427)


Pair of porphyry columns of a Romanesque ambo or jube
Height of the plinth: 90 cm.
Total height: 200 cm.
Romanesque, 12th century.
This object has been individually compared to the information in the Art Loss Register data bank and is not registered there as stolen or missing.
Votre assistant d'art personnel
Vous voulez être informé quand dans nos prochaines ventes aux enchères une œuvre d'art similaire sera proposée? Veuillez activer votre assistant d'art personnel.