Vente

Sculptures et Haute époque
Votre assistant d'art personnel
Voulez-vous acheter un objet similaire?
Nous vous informons volontiers si des objets similaire vendus dans une de nos prochaines vente aux enchères.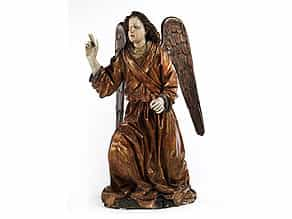 629
Großer Verkündigungsengel
Höhe: 94 cm.
Norditalien, 15. Jahrhundert.
Prix de catalogue € 13.000 - 15.000 Prix de catalogue€ 13.000 - 15.000 $ 14,040 - 16,200
£ 11,700 - 13,500
元 96,980 - 111,900
₽ 1,088,880 - 1,256,400
Holz geschnitzt, gefasst und teilvergoldet. Auf mitgeschnitztem Sockel kniend wiedergegeben, der Oberkörper jedoch in gekonnter Bewegung nach vorne geneigt, die rechte Hand mit dem Grußgestus, die linke Hand hielt ehemals das zugehörige Lilienstängel-Attribut. Die Gewandung gegürtet, in bewegte Falten gelegt, die am Boden aufstehen. Der edel geschnitzte Kopf mit schlankem Gesicht, gerahmt von seitlich nach hinten ziehendem Lockenhaar, der Hals gesäumt vom weiß gefassten Stoff des Unterkleides. Über den Oberkörper zwei Bänder über Kreuz gelegt. Die hohen Flügel möglicherweise schon früher erneuert. Fassung großteils erhalten, besonders schön die Inkarnatfassung des Kopfes. (810797)


Large Annunciation angel
Height: 94 cm.
15th century.
This object has been individually compared to the information in the Art Loss Register data bank and is not registered there as stolen or missing.
Votre assistant d'art personnel
Vous voulez être informé quand dans nos prochaines ventes aux enchères une œuvre d'art similaire sera proposée? Veuillez activer votre assistant d'art personnel.