Vente

Une collection privée d'objets en ivoire Partie II
Votre assistant d'art personnel
Voulez-vous acheter un objet similaire?
Nous vous informons volontiers si des objets similaire vendus dans une de nos prochaines vente aux enchères.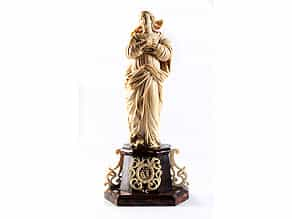 1421
Madonnenfigur in Elfenbein
Höhe der Figur: 24,5 cm.
Gesamthöhe mit Sockel: 34 cm.
Italien, um 1700.
Prix de catalogue € 5.000 - 6.000 Prix de catalogue€ 5.000 - 6.000 $ 5,450 - 6,540
£ 4,500 - 5,400
元 39,550 - 47,460
₽ 474,750 - 569,700
Auf einem Palisandersockel mit Elfenbein-Applikationen und Schildpattprofilen. Madonna auf einer Kalotte stehend, mit eng gegürtetem Gewand und locker darübergelegtem Umhang, der über den Leib zieht und links in leicht spitz zulaufenden Falten herabfällt. Beide Hände auf die Brust übereinandergelegt. Der Kopf nach links gewandt, gerahmt von fein geschnittenem, nach hinten gekämmtem und in Locken auf die Schultern geführtem Haar, mit Blick nach links oben in die Ferne. Das Brusttuch schwingt wie vom Winde geweht nach oben, verbunden durch eine Verknotung am Hinterkopf mit dem Kopftuch. Fußspitzen mit Sandalen unter dem Kleid hervortretend. Der sechskantige Sockel in der Front besetzt mit einer durchbrochen geschnittenen Elfenbeinapplikation mit C-bogiger Bandwerk- und Blattrahmung sowie einer Verkündigungsszene im Blattkranz. Seitlich durchbrochen geschnitzte Elfenbeinwangen. (8010426)


Madonna figure in ivory
Height of the figure: 24.5 cm.
Total height with base: 34 cm.
Italy, around 1700.
This object has been individually compared to the information in the Art Loss Register data bank and is not registered there as stolen or missing.
Votre assistant d'art personnel
Vous voulez être informé quand dans nos prochaines ventes aux enchères une œuvre d'art similaire sera proposée? Veuillez activer votre assistant d'art personnel.