Vente

Une collection privée d'objets en ivoire
Votre assistant d'art personnel
Voulez-vous acheter un objet similaire?
Nous vous informons volontiers si des objets similaire vendus dans une de nos prochaines vente aux enchères.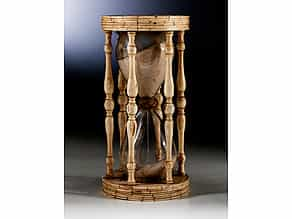 1000
Sanduhr in Walrosszahn und Glas
Höhe: 23,5 cm.
Durchmesser: 12 cm.
Prix de catalogue € 22.000 - 25.000 Prix de catalogue€ 22.000 - 25.000 $ 23,100 - 26,250
£ 19,800 - 22,500
元 168,960 - 192,000
₽ 2,242,680 - 2,548,500
Das Uhrengehäuse gebildet durch zwei Rosettenscheiben, im Relief beschnitzt, in Walrosszahn, verbunden durch sechs schlanke Balusterstäbe. Als Zeitmessinstrument eines Gelehrtenstudiolo, mehr aber auch als Kunstkammerobjekt gefertigt. (8018616)


Hourglass in walrus tusk and glass
Height: 23.5 cm.
Diameter: 12 cm.
This object has been individually compared to the information in the Art Loss Register data bank and is not registered there as stolen or missing.
Votre assistant d'art personnel
Vous voulez être informé quand dans nos prochaines ventes aux enchères une œuvre d'art similaire sera proposée? Veuillez activer votre assistant d'art personnel.