Vente

Une collection d'art privée
Votre assistant d'art personnel
Voulez-vous acheter un objet similaire?
Nous vous informons volontiers si des objets similaire vendus dans une de nos prochaines vente aux enchères.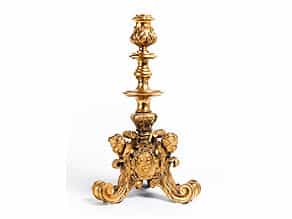 795
Äußerst seltener und fein gearbeiteter Tischleuchter mit dem Wappen von Papst Innozenz XII.
(Antonio Pignatelli, 1615 - 1700)
Höhe: 34 cm.
Fußbreite: 2 cm.
Rom, 17. Jahrhundert.
Prix de catalogue € 5.000 - 6.000 Prix de catalogue€ 5.000 - 6.000 $ 5,250 - 6,300
£ 4,500 - 5,400
元 38,400 - 46,080
₽ 509,700 - 611,640
Der Leuchterfuß dreiseitig, an den Seiten in hoher Ovalkartusche Papst- bzw. Kardinalswappen. Die kräftigen Volutenfüße ziehen nach oben in Akanthusblätter ein, besetzt mit geflügelten Engelsköpfen. Balusternodus blattförmig, darüber Aufbau in Art eines Scheibenlüsters zwischen Nodi und abschließender kräftiger Akanthusblatttülle. Bronze feuervergoldet. (8010460)


Absolutely rare and finely wrought candelabra with the coat of arms of Pope Innocent XII
(Antonio Pignatelli, 1615 - 1700)
Height: 34 cm.
Rome, 17th century
This object has been individually compared to the information in the Art Loss Register data bank and is not registered there as stolen or missing.
Votre assistant d'art personnel
Vous voulez être informé quand dans nos prochaines ventes aux enchères une œuvre d'art similaire sera proposée? Veuillez activer votre assistant d'art personnel.