Vente

Meubles et Aménagements
Votre assistant d'art personnel
Voulez-vous acheter un objet similaire?
Nous vous informons volontiers si des objets similaire vendus dans une de nos prochaines vente aux enchères.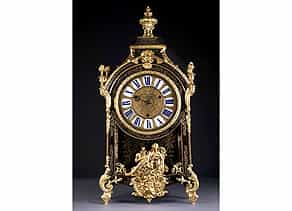 122
Große französische Boulle-Pendule
Höhe: 91 cm.
Breite: 44 cm.
Tiefe: ca. 19 cm.
Frankreich, Mitte 18. Jahrhundert.
Prix de catalogue € 5.000 - 6.000 Prix de catalogue€ 5.000 - 6.000 $ 5,250 - 6,300
£ 4,500 - 5,400
元 36,650 - 43,980
₽ 330,250 - 396,300
WERK
Acht-Tage-Gehwerk. Pendel ursprünglich mit Fadenaufhängung, umgebaut auf Pendelfeder. Vierviertel- und Stundenschlossscheibenschlagwerk auf zwei Glocken, die sich im Kapitell befinden. Rückplatine signiert "Masurier à Paris".

FUNKTIONEN
Stunden und Minuten.

GEHÄUSE
Hochrechteckiger Kasten. In der Front oben rundbogig geschlossen mit weiter aufsteigendem Sockel, der mit einer antiken Dreifußvase bekrönt ist. An den Ecken aufsteigende Zierapplikationen in Form von Kämpfern mit grotesken Masken, über deren Köpfen Flammenvasen aufsteigen. Die Bronzefüße in Form von Akanthusvoluten, an den Ecken hochziehend. Unterhalb des Zifferblattes über die Frontverglasung hinweg geführtes Relief mit Darstellung des Musengottes Apoll. Darunter Faunsmaske in einer Gitterwerkkartusche. Das Gehäuse ganzheitlich in Boulle-Technik gearbeitet, Messingeinlagen auf Schildpatt im frühen Régence-Stil. Sämtliche Bronzedekorationen vergoldet. Das Innere des Pendelkastens in Boulle-Technik dekoriert, der Boden mit Parkettpaviment.

ZIFFERBLATT
Metallzifferblatt mit Emailkartuschen und römischen Ziffern. Zeiger aus gebläutem Schmiedeeisen.

ZUSTAND
Bis auf das Schildpatt gut erhalten. (701725)
This object has been individually compared to the information in the Art Loss Register data bank and is not registered there as stolen or missing.
Votre assistant d'art personnel
Vous voulez être informé quand dans nos prochaines ventes aux enchères une œuvre d'art similaire sera proposée? Veuillez activer votre assistant d'art personnel.