Votre assistant d'art personnel
Voulez-vous acheter un objet similaire?
Nous vous informons volontiers si des objets similaire vendus dans une de nos prochaines vente aux enchères.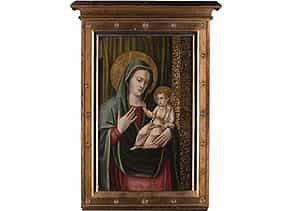 144
Maler des 16. Jahrhunderts
MADONNA MIT KIND
Prix de catalogue € 3.500 - 4.000 Prix de catalogue€ 3.500 - 4.000 $ 3,465 - 3,960
£ 3,150 - 3,600
元 24,570 - 28,080
₽ 212,450 - 242,800
Öl auf Holz.
52 x 32 cm.
In einem Ädikularahmen des 19. Jahrhunderts.

Die Madonna in Dreiviertelansicht stehend dargestellt, das Kind im linken Arm haltend, das in thronhafter Sitzgebärde die Hand zum Segensgestus emporhält und nach links blickt. Die Madonna mit erhobener rechter Hand, feingemaltes Gesicht, gehüllt in blauen Mantel. Scheibenförmiger, vergoldeter Nimbus vor einer grünen Stoffdraperie, seitlich Muster einer Wandmalerei in Form von Zweigen und Blättern auf hellem Grund. (700482)

This object has been individually compared to the information in the Art Loss Register data bank and is not registered there as stolen or missing.
Votre assistant d'art personnel
Vous voulez être informé quand dans nos prochaines ventes aux enchères une œuvre d'art similaire sera proposée? Veuillez activer votre assistant d'art personnel.