Votre assistant d'art personnel
Voulez-vous acheter un objet similaire?
Nous vous informons volontiers si des objets similaire vendus dans une de nos prochaines vente aux enchères.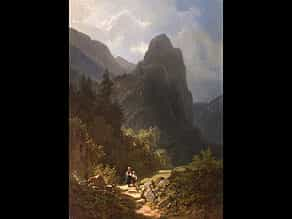 1571
Carl Spitzweg
1808 - 1885 München
SCHULKINDER
UNTER DEM OBERAMMERGAUER KOFEL
Prix de catalogue € 290.000 - 320.000 Prix de catalogue€ 290.000 - 320.000 $ 287,100 - 316,800
£ 261,000 - 288,000
元 2,035,799 - 2,246,400
₽ 17,603,000 - 19,424,000
Hochformatige Bergansicht mit dem markant emporragenden Ammergauer Kofel, seitlich weitere Höhenzüge. Im Vordergrund auf einem sonnenbeschienenen, von Felsbrocken gesäumten Bergweg zwei Kinder mit Schulmappen auf dem Heimweg, dem Betrachter entgegengehend. Ein kleinerer Knabe hat sich bei dem größeren Mädchen mit blauer Schürze und rotem Kopftuch am Ärmel eingehängt. Seitlich Gebüsch, im Hintergrund verschattete Tannen, überhalb der Gebirgslandschaft aufziehende Wolken.

Öl auf Leinwand
46,5 x 32,5 cm.
Rhombus-Signatur links unten, Typus um 1850.

Provenienz:
Privatbesitz München Gutachten: Zu diesem Gemälde liegt ein ausführliches Gutachten von Prof. Dr. Wichmann, vom Oktober 2006, im Original vor.

Literatur:
Bei dem vorliegenden Bild handelt es sich um ein
signiertes Werk themengleicher Bilder Spitzwegs,
abgebildet im Werkverzeichnis Siegfried Wichmann, Carl Spitzweg, Verzeichnis der Werke, Stuttgart 2002, S. 245, Nr. 439 bis 442. Ferner im Ausstellungskatalog "Spitzweg", Ausstellung im Haus der Kunst München, 1985/1986, Abb. 718 (Betitelt:"Schulkinder im Gebirge"). (682724)
This object has been individually compared to the information in the Art Loss Register data bank and is not registered there as stolen or missing.
Votre assistant d'art personnel
Vous voulez être informé quand dans nos prochaines ventes aux enchères une œuvre d'art similaire sera proposée? Veuillez activer votre assistant d'art personnel.