Votre assistant d'art personnel
Voulez-vous acheter un objet similaire?
Nous vous informons volontiers si des objets similaire vendus dans une de nos prochaines vente aux enchères.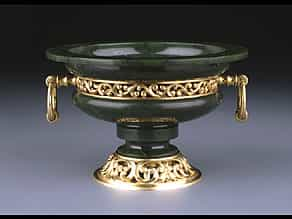 636
Kleine Zierschale
Dunkelgrüner Nephrith mit vergoldeter Silbermontierung. Schale in antiker Form, mit weißem Rand und eingezogenem Fuß. Das Gefäß tailliert mit umlaufendem, durchbrochen gearbeitetem Band mit Blattdekor und seitlichen ovalen Henkeln. Fußring ebenfalls durchbrochen, floral gearbeitet, nach unten sich weitend. Die Montierungen in Silber vergoldet, am Boden Silberstempel 84 sowie Meistermarke E.K. Am Innenrand handgravierte Nummerierung "38005". Minimaler, kleiner nicht sichtbarer Einriss.
Prix de catalogue € 85.000 - 95.000 Prix de catalogue€ 85.000 - 95.000 $ 91,800 - 102,600
£ 76,500 - 85,500
元 634,100 - 708,700
₽ 7,119,600 - 7,957,200
Höhe: 7,5 cm.
Durchmesser: 11,2 cm.
Russland 19./20. Jahrhundert.
(681981)
This object has been individually compared to the information in the Art Loss Register data bank and is not registered there as stolen or missing.
Votre assistant d'art personnel
Vous voulez être informé quand dans nos prochaines ventes aux enchères une œuvre d'art similaire sera proposée? Veuillez activer votre assistant d'art personnel.