Vente

Vente des beaux arts
Votre assistant d'art personnel
Voulez-vous acheter un objet similaire?
Nous vous informons volontiers si des objets similaire vendus dans une de nos prochaines vente aux enchères.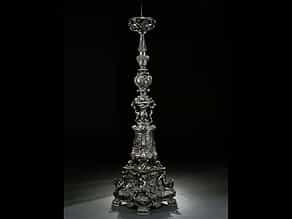 751
Bedeutender, großer und schwerer Bronze-Leuchter
Auf vier ausgestellten Füßen der breite Unterbau mit vier plastischen Nymphen in unterschiedlicher Art
gestaltet. Zwischen den Figuren Reliefdekor von Kardinalsstab, Büchern und Leuchtern sowie von Monstranzen, Kreuz und Mitra. Von vier Drachen wird der breite Schaft getragen, der mit Lisenen und
christlichem Relefdekor versehen ist. Vier Putten tragen den oberen Teil des Leuchters, der mit Blattgirlanden, Fruchtgebinden und Löwenköpfen
versehen ist. Die Tropfschale ist mit Karyatiden und Kartuschen dekoriert. Langer Eisendorn.
Prix de catalogue € 10.000 - 14.000 Prix de catalogue€ 10.000 - 14.000 $ 10,900 - 15,260
£ 9,000 - 12,600
元 79,100 - 110,740
₽ 949,500 - 1,329,300
Höhe: 190 cm.
Florenz, 1780-1830
(670452)
This object has been individually compared to the information in the Art Loss Register data bank and is not registered there as stolen or missing.
Votre assistant d'art personnel
Vous voulez être informé quand dans nos prochaines ventes aux enchères une œuvre d'art similaire sera proposée? Veuillez activer votre assistant d'art personnel.