Vente

Meubles & aménagements
Votre assistant d'art personnel
Voulez-vous acheter un objet similaire?
Nous vous informons volontiers si des objets similaire vendus dans une de nos prochaines vente aux enchères.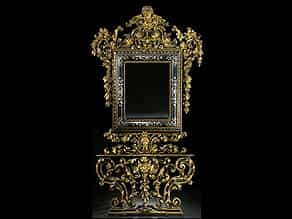 23
Große italienische Wand-Spiegelkonsole
Zweiteilig, der Konsolenunterbau
reich in Akanthusranken Dekorationen geschnitzt, wenig vortretend mit schlanker Platte, übergroßem Maskaron, aus dessen Mundöffnung eine Blattgirlande herunter geführt wird. Konsolenaufbau durch seitlich hochschwingende S-förmige Voluten, mit Akanthusblättern besetzt. Darüber Zwischenstück mit Bacchusköpfchen in Rollwerkvoluten, der darüber hängende Spiegel mit ebonisierter Rahmung, besetzt mit Perlmuttintarserie in Form von Blattranken
und Blüten. Hohe Akanthusblätter-
bekrönung mit abschließendem geflügeltem Puttenkopf. Insgesamt schwarz-gold gefasst.
Prix de catalogue € 55.000 - 60.000 Prix de catalogue€ 55.000 - 60.000 $ 57,750 - 63,000
£ 49,500 - 54,000
元 422,400 - 460,800
₽ 5,606,700 - 6,116,400
Höhe der Konsole: 140 cm.
Höhe des Spiegels: 182 cm.
Breite der Konsole: 155 cm.
Tiefe: 33 cm.
Obere Breite des Spiegels: 163 cm. Italien, Ende 19. Jahrhundert. (6713515)
This object has been individually compared to the information in the Art Loss Register data bank and is not registered there as stolen or missing.
Votre assistant d'art personnel
Vous voulez être informé quand dans nos prochaines ventes aux enchères une œuvre d'art similaire sera proposée? Veuillez activer votre assistant d'art personnel.