Vente

Montres et horloges
Votre assistant d'art personnel
Voulez-vous acheter un objet similaire?
Nous vous informons volontiers si des objets similaire vendus dans une de nos prochaines vente aux enchères.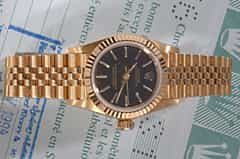 1415
ROLEX
OYSTER PERPETUEL
18 Kt GELBGOLD
DAMENUHR
REFERENZ 67198
WERK
Manufaktur Kaliber Rolex, Automatik, Chronometer.
Prix de catalogue € 5.000 - 6.000 Prix de catalogue€ 5.000 - 6.000 $ 5,250 - 6,300
£ 4,500 - 5,400
元 38,400 - 46,080
₽ 509,700 - 611,640
FUNKTION
Stunde, Minute, Sekunde.

GEHÄUSE
18 Kt. Gelbgold, verschraubter Boden, Saphirglas,
geriffelte Lunette, No. S 185644.

ZIFFERBLATT
Schwarz, goldene Strichindexe, goldene Zeiger, Tritium Leichtpunkte und Zeiger.

BAND
18 Kt .Jubiléeband mit verdeckter Faltschließe.

ZUSTAND
Neuwertig.

Schweiz.
Originalpapiere .
Verkaufsdatum 1994.
26mm.
(662988)
This object has been individually compared to the information in the Art Loss Register data bank and is not registered there as stolen or missing.
Votre assistant d'art personnel
Vous voulez être informé quand dans nos prochaines ventes aux enchères une œuvre d'art similaire sera proposée? Veuillez activer votre assistant d'art personnel.