Votre assistant d'art personnel
Voulez-vous acheter un objet similaire?
Nous vous informons volontiers si des objets similaire vendus dans une de nos prochaines vente aux enchères.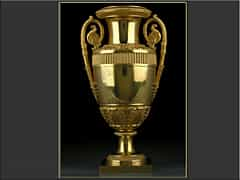 234
Russische Prunkvase
Feuervergoldete Vase aus Bronze. Auf quadratischem Fuß steht das Rund der Vase mit umlaufendem Blattfries. Der sich nach oben weitende Körper ist im unteren Bereich mit Blattdekor versehen. Der Fond ist punziert, die Vergoldung in Matt- und Glanzgold. Die Wandung der Vase ist glatt und glanzvergoldet. Die Schulter mit einem Band von vertikalen Kannelierungen und Blattmotiven. Seitlich appliziert zwei Griffe mit Blattdekor, die in eine Schneckung übergehen. Der Hals hochglanzvergoldet. Die Lippe mit Blattdekor und Rippungen versehen. Kurzer Einsatz im Vasenkörper.

Höhe: 27 cm
Russland,
wohl St. Petersburg, um 1810

Literatur:
Eine ähnliche Vase ist abgebildet im Ausstellungskatalog der Kulturstiftung Ruhr, Villa Hügel, Essen, "St. Petersburg, um 1800", die aus der Sammlung N.N. Koksarov, Petersburg, stammt. (652306)
Prix de catalogue € 15.000 - 18.000 Prix de catalogue€ 15.000 - 18.000 $ 15,750 - 18,900
£ 13,500 - 16,200
元 115,200 - 138,240
₽ 1,529,100 - 1,834,920
This object has been individually compared to the information in the Art Loss Register data bank and is not registered there as stolen or missing.
Votre assistant d'art personnel
Vous voulez être informé quand dans nos prochaines ventes aux enchères une œuvre d'art similaire sera proposée? Veuillez activer votre assistant d'art personnel.