Vente

Meubles & aménagements
Votre assistant d'art personnel
Voulez-vous acheter un objet similaire?
Nous vous informons volontiers si des objets similaire vendus dans une de nos prochaines vente aux enchères.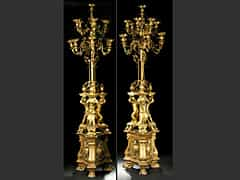 254
Paar große Hallen-Girandolen
Jeweils auf Löwenklaufenfüßen stehend. Der Unter-bau dreiseitig mit Rollwerk und Schuppenmotiven. Die Flächen dekoriert mit bekrönten Wappenkartuschen sowie Kartuschen mit Tiara. Aufgesetzt ein Sockel mit Rollwerk und Maskaronen, auf dem jeweils drei Putten die Girandole tragen. Der Girandolenaufsatz mit einem sechsseitigem Schaft getragen von vergoldetem Schmiedeeisen mit Blatt- und Rollwerk. Zwölfarmige Girandolen mit einem zentralem Leuchter. Alles Schmiedeeisen, vergoldet. Die gesamten Girandolen-Kombinationsarbeiten aus Schmiedeeisen vergoldet, gefasstem und vergoldetem Holz sowie Bronze.
Prix de catalogue € 28.000 - 34.000 Prix de catalogue€ 28.000 - 34.000 $ 30,240 - 36,720
£ 25,200 - 30,600
元 208,880 - 253,640
₽ 2,345,280 - 2,847,840
H.: 260 cm.
Italien, 19. Jahrhundert.
(6414115)
This object has been individually compared to the information in the Art Loss Register data bank and is not registered there as stolen or missing.
Votre assistant d'art personnel
Vous voulez être informé quand dans nos prochaines ventes aux enchères une œuvre d'art similaire sera proposée? Veuillez activer votre assistant d'art personnel.