Vente

Vente des beaux arts
Votre assistant d'art personnel
Voulez-vous acheter un objet similaire?
Nous vous informons volontiers si des objets similaire vendus dans une de nos prochaines vente aux enchères.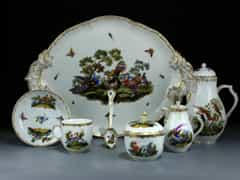 1014
Berliner KPM Kaffee-Set
Das Set bestehend aus einem großen ovalem Tablett, einer Kaffeekanne, einem Milchkännchen, einer Zuckerdose, einer Tasse mit Untertasse und einem Zuckerlöffel. Alle Teile mit feiner Blumenmalerei von Pfauen, Hühnern, Vögeln, exotischen Vögeln und Insekten versehen.
H. der Kaffeekanne: 19,5 cm.
B. des Tabletts: 43 cm. Unterglasurblaue Schwertermarke. KPM Marke übervergoldet. Milchkännchen rep.
Berlin, 19. Jhdt. (6317632)
Prix de catalogue € 4.900 - 5.900 Prix de catalogue€ 4.900 - 5.900 $ 5,145 - 6,195
£ 4,410 - 5,310
元 35,917 - 43,247
₽ 323,645 - 389,695
This object has been individually compared to the information in the Art Loss Register data bank and is not registered there as stolen or missing.
Votre assistant d'art personnel
Vous voulez être informé quand dans nos prochaines ventes aux enchères une œuvre d'art similaire sera proposée? Veuillez activer votre assistant d'art personnel.