Votre recherche Franz von Defregger dans la vente
Vente en mars part II.

samedi, 27 mars 2004
Votre assistant d'art personnel
Vous êtes intéressé par des œuvres de Franz von Defregger?
Nous vous informons volontiers si les œuvres d'art de Franz von Defregger vendus dans une de nos prochaines vente aux enchères.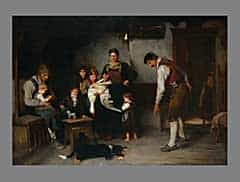 1450
Franz von Defregger
1835 Strohnach/Südtirol - 1921 München DER GÄNSERÄUBER oder DIE GEBISSENE GANS In einer Bauernstube wird vom Bauern ein Hund zurechtgerügt, der eine Gans vorzeitig zu Tode gebracht hat, noch bevor man für Martini grüstet hat. Die gesamte Familie mit betretenen Gesichtern. Ein junges Mädchen hält die Gans in Händen, die Mutter hat die Füße der Gans ergriffen. Links ein Knabe mit Spielpferd, der als einziger über den Vorfall lächeln kann. Rechts im Türrahmen ein weiteres Mädchen mit Korb. Öl/Lwd. 90 x 130 cm. Anmerkung I:Dem Gemälde ist eine Expertise von Hans Peter Defregger, 23.03.1971 beigegeben. Das Gemälde ist im Defregger-Archiv unter der Nummer 202014 erfasst und im Werksverzeichnis auf Seite 322 wiedergegeben. Anmerkung II: dem Gemäldethema ist eine Erzählung von Peter Rossegger zugrunde gelegt: "Der Gänseräuber" siehe: Defregger-Album mit Erzählungen von Peter Rossegger, Rosenheimer Verlag. Dort weiter abgebildet auf Seite 7. (530281)
Prix de catalogue € 120.000 - 140.000 Prix de catalogue€ 120.000 - 140.000 $ 118,800 - 138,600
£ 108,000 - 126,000
元 842,400 - 982,799
₽ 7,284,000 - 8,498,000
This object has been individually compared to the information in the Art Loss Register data bank and is not registered there as stolen or missing.
Votre assistant d'art personnel
Vous voulez être informé quand dans nos prochaines ventes aux enchères une œuvre d'art de Franz von Defregger sera proposée? Veuillez activer votre assistant d'art personnel.