Vente

Vente en mars part I.
Votre assistant d'art personnel
Voulez-vous acheter un objet similaire?
Nous vous informons volontiers si des objets similaire vendus dans une de nos prochaines vente aux enchères.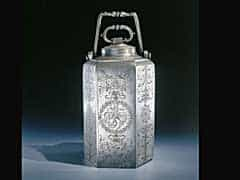 575
Museale Nürnberger Zinn-Schraubflasche von 1681
Meister Hans Sigmund Geisser, Meister 1652. Heirat 1653. Stirbt 1682 im Alter von 56 Jahren. Sechsseitige Zinnschraubflasche mit trapezförmig gebogenem Tragehenkel sowie an dem Schraubdeckel mit schwenkbarem, querovalem Henkel mit Blattmotiv. Auf dem Deckelrand die Datierung 1681. Die Wandungen mit reichem Blatt- und Arabeskendekor fein graviert. An der Vorderseite Wappen mit Helmzier im Blattkranz, als Helmzier ein Mann mit erhobenem Weinglas flankiert von den Buchstaben F. sowie HM. An der gegenüberliegenden Wandung entsprechende Dekoration. Die übrigen Wandseiten zeigen im Zentrum jeweils eine stilisierte Rose. Zwischen hängendem und stehendem Arabesken-Blattdekor. Sechsseitiger, leicht gewölbter Schulterring mit Umschrift in Majuskeln mit Kapitällchen. An vier Ecken gravierte, geflügelte Engelsköpfe. Weitere Beschriftung auf den darüber liegenden Glattflächen. Rosetten auf den Henkelösen. H.: 35 cm. Mit aufgestelltem Griff: ca. 41,5 cm. Marke auf dem Schraubdeckel: Nürnberger Beschau mit G. für Hans Sigmund Geisser, Nürnberg. Nürnberg, 17. Jhdt. Literatur: E. Hintze, Nürnberger Zinngiesser, Nr. 296. (530817)
Prix de catalogue € 15.000 - 18.000 Prix de catalogue€ 15.000 - 18.000 $ 14,850 - 17,820
£ 13,500 - 16,200
元 105,300 - 126,359
₽ 910,500 - 1,092,600
This object has been individually compared to the information in the Art Loss Register data bank and is not registered there as stolen or missing.
Votre assistant d'art personnel
Vous voulez être informé quand dans nos prochaines ventes aux enchères une œuvre d'art similaire sera proposée? Veuillez activer votre assistant d'art personnel.