Vente

Vente en juin part II.
Votre assistant d'art personnel
Voulez-vous acheter un objet similaire?
Nous vous informons volontiers si des objets similaire vendus dans une de nos prochaines vente aux enchères.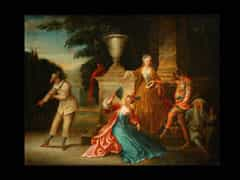 1228
Französisch/belgischer Maler des 18. Jhdts.
COMEDIA DEL ARTE-VORFÜHRUNG IN EINEM PARK Elegante, höfische Dame in einem Park an einer Parkvase stehend, zu ihren Füßen ein weiteres höfisches Fräulein mit Fächer sitzend. Die beiden Damen umgeben von Komödianten, in Harlekin und Pierrot-Kostümen sowie einem weiteren Schauspieler, der am Boden sitzt und einen Fruchtkorb hält. Öl/Lwd. 58 x 75 cm. Doubliert. (461872)
Prix de catalogue € 3.500 - 4.200 Prix de catalogue€ 3.500 - 4.200 $ 3,675 - 4,410
£ 3,150 - 3,780
元 26,880 - 32,256
₽ 356,790 - 428,148
This object has been individually compared to the information in the Art Loss Register data bank and is not registered there as stolen or missing.
Votre assistant d'art personnel
Vous voulez être informé quand dans nos prochaines ventes aux enchères une œuvre d'art similaire sera proposée? Veuillez activer votre assistant d'art personnel.