Vente

Vente d'art italien
Votre assistant d'art personnel
Voulez-vous acheter un objet similaire?
Nous vous informons volontiers si des objets similaire vendus dans une de nos prochaines vente aux enchères.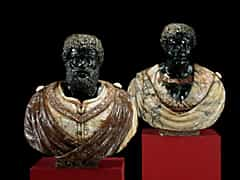 287
Paar Marmorbüsten
In Gestaltung von Cäsarenbüsten der Antike. Die Büsten stellen einen bärtigen, mit kurzem Lockenhaar, Untergewand und Toga bekleideten Mohren-Herrscher sowie eine Mohrin in entsprechender Kleidung dar. Die Köpfe in schwarzem, mit feiner grauer Äderung durchzogenem Marmor. Die Unterkleider in hellem rosefarbendem bzw. alabaster-luzidem Marmor. Die Toga des Mannes in Ochsenblut braunem, grau geädertem Marmor, die Toga der Frau in gelblichem, grau geädertem Stein. Jeweils scheibenförmiger, gemogelter Knoten als Gewandagraffe an den Schultern. Jeweils angearbeiteter vierkantiger Sockel mit quadratischer Plinte. Den dekorativen Büsten, die für die Palazzo- oder Lodga-Ausstattung des 17.Jhdts. typisch sind, zitieren das antike Ausstattungsformen-Repertoire römischer Cäsarenbüsten ohne jedoch noch in der Physiognomik einen bestimmten römischen Kaiser zu meinen. Hierin liegt der besondere Reiz solcher ´Imago-cliteata´-Büsten. Hervorzuheben ist die im 17.Jhdt. aufkommende Vorliebe für die Verwendung verschiedenener Marmorsorten der Büstenbekleidung. H.: je 65,5 cm. B.: 60 cm. Italien, 18./19.Jhdt. (4701626)
Prix de catalogue € 34.000 - 41.000 Prix de catalogue€ 34.000 - 41.000 $ 36,720 - 44,280
£ 30,600 - 36,900
元 253,640 - 305,860
₽ 2,847,840 - 3,434,160
This object has been individually compared to the information in the Art Loss Register data bank and is not registered there as stolen or missing.
Votre assistant d'art personnel
Vous voulez être informé quand dans nos prochaines ventes aux enchères une œuvre d'art similaire sera proposée? Veuillez activer votre assistant d'art personnel.