Vente

Vente en mars part II.
Votre assistant d'art personnel
Voulez-vous acheter un objet similaire?
Nous vous informons volontiers si des objets similaire vendus dans une de nos prochaines vente aux enchères.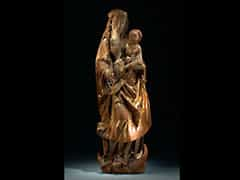 1858
Schnitzfigur einer Madonna mit Kind
Typus der Mondsichelmadonna, Lindenholz geschnitzt mit echter alter Fassung und Leinenuntergrund. Die Madonna stehend, in leicht S-bogiger Körperhaltung. Das Kind im linken Arm am Leib haltend, mit verschränkten Beinen in Thronhaltung sitzend mit ausgestreckten Ärmchen (abgebrochen), das bekrönte Haupt mit lang herabfallenden, wellig geschnitzten Haarlocken. In der rechten, zartgliedrig geschnitzten Hand das (fehlende) Zepter. Kantig geschnittener, rhythmisch entworfener Faltenwurf. Die Gesichtszüge verweisen in den fränkischen Raum. H.: 82 cm. Franken um 1500. (4417510)
Prix de catalogue € 23.000 - 28.000 Prix de catalogue€ 23.000 - 28.000 $ 24,150 - 29,400
£ 20,700 - 25,200
元 176,640 - 215,040
₽ 2,344,620 - 2,854,320
This object has been individually compared to the information in the Art Loss Register data bank and is not registered there as stolen or missing.
Votre assistant d'art personnel
Vous voulez être informé quand dans nos prochaines ventes aux enchères une œuvre d'art similaire sera proposée? Veuillez activer votre assistant d'art personnel.