Vente

Vente en juin part II.
Votre assistant d'art personnel
Voulez-vous acheter un objet similaire?
Nous vous informons volontiers si des objets similaire vendus dans une de nos prochaines vente aux enchères.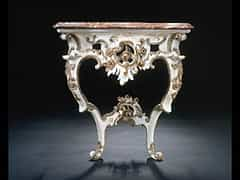 1011
Gefasste Rokoko-Konsole
Kleine, in weiß und silber gefasste Rokoko-Konsole. Zwei geschwungene, an den Knien vortretende nach rückwärts zusammengeführte, geschwungene Beine, verbunden durch einen durchbrochen geschnitzten Rocaille-Steg. Die konvex nach vorne schweifende Zarge mit einer durchbrochen geschnitzten Rocaille besetzt, die in ihren floralen Auslappungen weit herunter geführt wird. Die Durchbrechung mit einer plastisch geschnitzten Rose gefüllt, mit seitlich ebenfalls herabhängend geschnitzten Rosenblüten. Ebensolche Blütenranken an den glatt halbrund gearbeiteten Beinen. Die oberen Zargenecken mit großen, eingerollten Voluten besetzt, in die die geschnitzten Rocaillen einlaufen. Die Seitenzargen ebenso durchbrochen geschnitzt mit Gitterwerk und c-bogigen versilberten Ornamenten und Rosenblüten. Abschluss durch eine dreiseitig geschweifte Marmorplatte in rotbraun mit weißen Äderungen. H.: 80 cm. B.: 74 cm. T.: 49 cm. Süddeutsch, Mitte 18. Jhdt. (361084)
Prix de catalogue € 8.500 - 10.000 Prix de catalogue€ 8.500 - 10.000 $ 9,180 - 10,800
£ 7,650 - 9,000
元 63,410 - 74,600
₽ 711,960 - 837,600
This object has been individually compared to the information in the Art Loss Register data bank and is not registered there as stolen or missing.
Votre assistant d'art personnel
Vous voulez être informé quand dans nos prochaines ventes aux enchères une œuvre d'art similaire sera proposée? Veuillez activer votre assistant d'art personnel.