Vente

Vente en décembre part I.
Votre assistant d'art personnel
Voulez-vous acheter un objet similaire?
Nous vous informons volontiers si des objets similaire vendus dans une de nos prochaines vente aux enchères.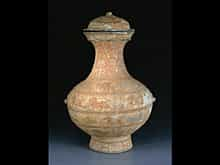 344
Chinesische Deckelvase
Aus gebranntem Ton mit Resten von Kaltmalerei. Darauf Dekorationen von Pferden, Reitern und springenden Tieren. Seitlich Applikationen. Abplatzungen. H.: 50,5 cm. China, Streitende Reiche 480 - 221 v. Chr. Anmerkung: Zu diesem Objekt leigt ein Thermolumineszent-Gutachten mit wissenschaftlicher Ausarbeitung und Kurvenverläufen vor. Literatur: Vgl. Chinese Ceramics, Ancint Stage, Peking 1989, Abb. 270. (970311)
Prix de catalogue € 6.100 - 7.300 Prix de catalogue€ 6.100 - 7.300 $ 6,588 - 7,884
£ 5,490 - 6,570
元 45,506 - 54,458
₽ 510,936 - 611,448
This object has been individually compared to the information in the Art Loss Register data bank and is not registered there as stolen or missing.
Votre assistant d'art personnel
Vous voulez être informé quand dans nos prochaines ventes aux enchères une œuvre d'art similaire sera proposée? Veuillez activer votre assistant d'art personnel.