Votre assistant d'art personnel
Voulez-vous acheter un objet similaire?
Nous vous informons volontiers si des objets similaire vendus dans une de nos prochaines vente aux enchères.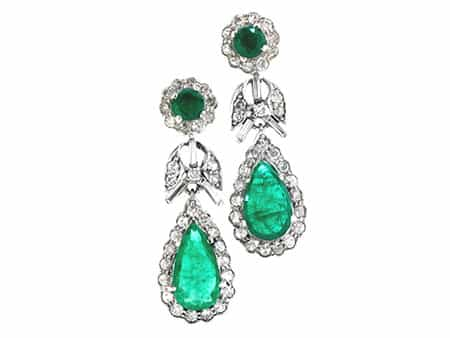 387
Smaragd-Diamantohrhänger
Länge: ca. 3,5 cm.
Gewicht: ca. 7 g.
Silber rhodiniert und WG 750.
Prix de catalogue € 3.500 - 5.000 Prix de catalogue€ 3.500 - 5.000 $ 3,780 - 5,400
£ 3,150 - 4,500
元 26,110 - 37,300
₽ 293,160 - 418,800
Dekorative bewegliche Ohrhänger mit zwei transparenten Smaragdtropfen, zus. ca. 3,6 ct, zwei rund facettierten Smaragden, zus. ca. 0,5 ct (minimal best.), sowie Diamanten im Achtkant- und Baguette-Schliff, zus. ca. 1,3 ct. Steckbressur. (1171211) (16)
This object has been individually compared to the information in the Art Loss Register data bank and is not registered there as stolen or missing.
Votre assistant d'art personnel
Vous voulez être informé quand dans nos prochaines ventes aux enchères une œuvre d'art similaire sera proposée? Veuillez activer votre assistant d'art personnel.