Votre recherche Cesare Félix Georges Dell' Acqua dans la vente
Tableaux du XIXe siècle

mercredi, 26 septembre 2018
Votre assistant d'art personnel
Vous êtes intéressé par des œuvres de Cesare Félix Georges Dell' Acqua?
Nous vous informons volontiers si les œuvres d'art de Cesare Félix Georges Dell' Acqua vendus dans une de nos prochaines vente aux enchères.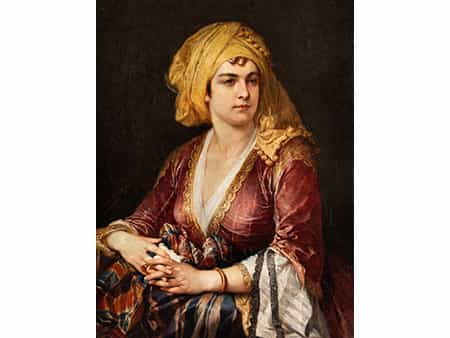 476
Cesare Félix Georges Dell' Acqua ,
1821 – 1905

ORIENTALIN MIT TURBAN Öl auf Leinwand.
86 x 66 cm.
Mittig links in Rot signiert "Cesare dell' Acqua".
Prix de catalogue € 13.000 - 18.000 Prix de catalogue€ 13.000 - 18.000 $ 12,870 - 17,820
£ 11,700 - 16,200
元 91,260 - 126,359
₽ 789,100 - 1,092,600
Von 1842-1847 gelang es dem Künstler ein Stipendium der Stadt Triest zu erlangen, wodurch er sich an der Akademie der schönen Künste in Venedig einschreiben konnte. Daraufhin erlangte er seine ersten Aufträge von Erzherzog Johann von Österreich und dokumentierte den Besuch von Kaiser Franz Josef I in Triest 1844 in 16 Lithografien. In der Folgezeit nach dem Studium verbrachte dell' Acqua Zeit in Wien, München, Paris, Florenz und Rom, wo er unter anderem in Kontakt mit Friedrich Overbeck (1789-1869) kam. 1848 ließ er sich jedoch in Brüssel nieder. Mit der Auszeichnung 1857 eines seiner Gemälde während der Exposition Generale delle Belle Arti in Brüssel gelang ihm dann der Durchbruch.
Vor unbestimmtem Hintergrund die orientalisch anmutende Darstellung einer Dame als Hüftportrait mit zusammengefalteten Händen und an dem Betrachter vorbeiführendem Blick. Die mannigfaltige Behandlung ihrer Kleidung mit Spitzen, Quasten und Goldstickerei zeigt, durch die Darstellung der verschiedenen Materialien, die besondere Begabung des Künstlers Textilien darzustellen. (1160261) (5) (13)
This object has been individually compared to the information in the Art Loss Register data bank and is not registered there as stolen or missing.
Votre assistant d'art personnel
Vous voulez être informé quand dans nos prochaines ventes aux enchères une œuvre d'art de Cesare Félix Georges Dell' Acqua sera proposée? Veuillez activer votre assistant d'art personnel.
Voulez-vous vendre une œuvre d'art de Cesare Félix Georges Dell' Acqua?
Livrez maintenant Vente privée FAQ

Vos envois sont toujours les bienvenus. Nos experts se feront un plaisir de vous conseiller personnellement, nous nous réjouissons de votre appel.
Contactez nos experts