Votre recherche kaminuhr dans la vente
Horloges

mercredi, 26 septembre 2018
Votre assistant d'art personnel
Voulez-vous acheter un objet similaire?
Nous vous informons volontiers si des objets similaire vendus dans une de nos prochaines vente aux enchères.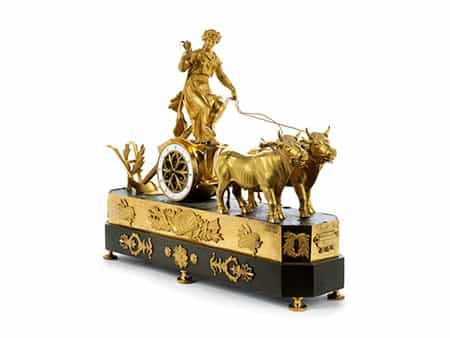 160
Figürlich gestaltete Kaminuhr
Höhe: 44 cm.
Länge: 54 cm.
Tiefe: 15 cm.
Am Zifferring signiert "Gustav Undén".
Anfang 19. Jahrhundert.
Prix de catalogue € 20.000 - 22.000 Prix de catalogue€ 20.000 - 22.000 $ 21,600 - 23,760
£ 18,000 - 19,800
元 149,200 - 164,120
₽ 1,675,200 - 1,842,720
In feuervergoldeter und brünierter Bronze. Zweistufiger Sockel auf vier vergoldeten Spindelfüßen. Auf dem Sockel Figurengruppe einer auf einem von zwei Rindern gezogenen Wagen sitzenden Göttin Ceres, Kornähren in ihrer erhobenen Rechten, dahinter ein Pflug. Wagen­rad mit weißem Emailziffernring, besetzt mit römischer Stunde, Zahnräderwerk durch die Speichen des Frontrades sichtbar. Uhrengehäuserückabdeckung eben­falls in Form eines Wagenrades gestaltet. Vierzehn­tagegehwerk, Pendel an Fadenaufhängung (Funktion nicht geprüft). Schlossscheibenschlagwerk auf Glocke. (11606836) (2) (11)
This object has been individually compared to the information in the Art Loss Register data bank and is not registered there as stolen or missing.
Votre assistant d'art personnel
Vous voulez être informé quand dans nos prochaines ventes aux enchères une œuvre d'art similaire sera proposée? Veuillez activer votre assistant d'art personnel.