Votre assistant d'art personnel
Voulez-vous acheter un objet similaire?
Nous vous informons volontiers si des objets similaire vendus dans une de nos prochaines vente aux enchères.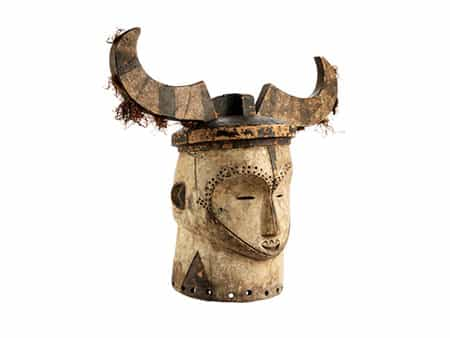 267
Afrikanische Stülpmaske der Fang
Höhe: 53 cm.
Breite: 56 cm.
Gesamthöhe inkl.
Ständer: 76 cm.
Gabun, 20. Jahrhundert.
Prix de catalogue € 3.000 - 3.500 Prix de catalogue€ 3.000 - 3.500 $ 3,120 - 3,640
£ 2,700 - 3,150
元 20,970 - 24,465
₽ 162,900 - 190,050
Zylindrische Grundform mit scheibenförmigem, leicht gewölbtem deckelartigen Kopfabschluss, darin eingesteckt zwei separat gearbeitete Hornaufsätze. Das Gesicht geometrisch herzförmig gestaltet, die Brauenbögen zweireihig gelocht, die Augen schlitzförmig. Am Halsansatz Lochungen für Raffia-Bastbehang. Authentisches Objekt. Im Originalzustand. Auf Präsentationsständer in Metall. Ehemals weiß und schwarz gefärbt, die Farbe altersbedingt berieben.

Provenienz:
Süddeutsche Privatsammlung. (11509826) (11)
This object has been individually compared to the information in the Art Loss Register data bank and is not registered there as stolen or missing.
Votre assistant d'art personnel
Vous voulez être informé quand dans nos prochaines ventes aux enchères une œuvre d'art similaire sera proposée? Veuillez activer votre assistant d'art personnel.