Votre assistant d'art personnel
Voulez-vous acheter un objet similaire?
Nous vous informons volontiers si des objets similaire vendus dans une de nos prochaines vente aux enchères.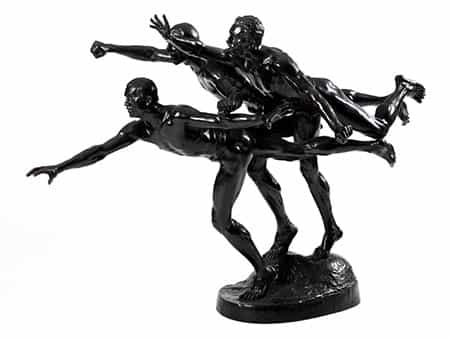 649
Alfred Boucher,
1850-1934
AU BUT oder LES COUREURS Höhe: ca. 103 cm.
Auf der Bodenplatte im Guss signiert sowie Gießereistempel "Siot Paris".

Bronze, schwarz-braun patiniert. Grand modelle. "Au but" gehört zu den bekanntesten Skulpturengruppen von Alfred Boucher und zeigt drei Athleten beim erreichen der Ziellinie. Der Entwurf wurde erstmals auf dem Salon von 1886 vorgestellt und war derartig erfolgreich, dass für den Jardin de Luxembourg eine lebensgroße Ausführung bestellt wurde. (1121282) (12)
Prix de catalogue € 55.000 - 65.000 Prix de catalogue€ 55.000 - 65.000 $ 59,950 - 70,850
£ 49,500 - 58,500
元 435,050 - 514,150
₽ 5,222,250 - 6,171,750
Alfred Boucher,
1850 - 1934

AU BUT [THE FINISHING LINE] or LES COUREURS [THE RUNNERS]

Height: ca. 103 cm.
Signed on the base plate within the cast, and foundry mark by "Siot Paris".

Bronze, blackish-brown patina.
This object has been individually compared to the information in the Art Loss Register data bank and is not registered there as stolen or missing.
Votre assistant d'art personnel
Vous voulez être informé quand dans nos prochaines ventes aux enchères une œuvre d'art similaire sera proposée? Veuillez activer votre assistant d'art personnel.