Votre recherche Pieter Brueghel der Jüngere dans la vente
Tableaux du XVI - XVIII siècle

jeudi, 22 septembre 2016
Votre assistant d'art personnel
Vous êtes intéressé par des œuvres de Pieter Brueghel der Jüngere?
Nous vous informons volontiers si les œuvres d'art de Pieter Brueghel der Jüngere vendus dans une de nos prochaines vente aux enchères.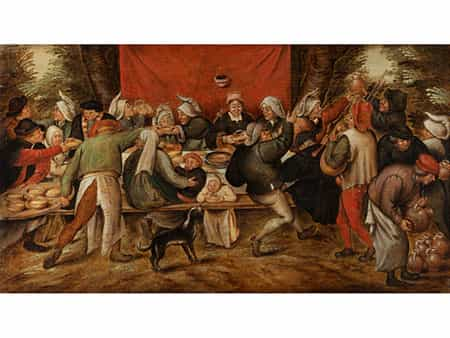 892
Pieter Brueghel d. J.,
um 1564 Brüssel – 1637 Antwerpen
KERMESSE Öl auf Holz.
22,5 x 40 cm.
Prix de catalogue € 70.000 - 100.000 Prix de catalogue€ 70.000 - 100.000 $ 72,800 - 104,000
£ 63,000 - 90,000
元 489,300 - 699,000
₽ 3,801,000 - 5,430,000
Beigegeben Expertise von Dr. Klaus Ertz.

An einer langen, mit weißem Tuch bedeckten Tafel gruppieren sich eine Reihe von ländlichen Männern und Frauen, dazwischen mehrere Kinder beim Kirmesmahl. Von links tragen zwei Wirte eine Holzplatte mit Breischüsseln herein, rechts ein Dudelsackpfeifer zwischen gedrängten Figuren, unten denen eine Frau einen Krug weiterreicht sowie ein Wirt, der mehrere kleine Krüge füllt. Im Zentrum der hinteren Sitzreihe eine "Kirmes-Braut", die mit beiden Händen ihre Schale hält, bekrönt mit einem reifartigen Hut, unter dem das Haar seitlich zu den Schultern herabzieht - eine Darstellung, die sich auch in anderen Bildern Brueghels findet. Dahinter ein zwischen den Bäumen aufgespanntes großes rotes Tuch. Im Vordergrund neben einem sitzenden Knaben ein weiß gekleidetes Mädchen mit Breischüssel auf der Sitzbank, das einem Hündchen zuspricht. Seitlich hellere Durchblicke durch das Laubwerk der dahinter stehenden Baumgruppen. (1070971) (11)


Pieter Brueghel the Younger,
ca. 1564 Brussels – 1637 Antwerp

KERMESSE

Oil on panel.
22.5 x 40 cm.

Accompanied by an expert's report from Dr Klaus Ertz.

A number of villagers are eating around a table set with a white cloth with several children sitting in between them. From the left two innkeepers are carrying in a wooden tray with bowls of porridge. On the right a bagpiper is playing amongst a crowd which includes a woman passing on a tankard and another innkeeper filling several small tankards. A so called "Kermes bride" is depicted at the centre of the rear row of seats holding a bowl in both hands and wearing a circlet on her shoulder-length hair. This motif can be found in other paintings by Brueghel. In the background a red cloth is stretched out between two trees. A boy is seated in the foreground and, beside him, a little girl dressed in white sits on a bench holding a bowl of porridge while talking to a little dog. Through gaps in the leaves of the trees behind it is possible to catch glimpses of sunlit views either side.
This object has been individually compared to the information in the Art Loss Register data bank and is not registered there as stolen or missing.
Votre assistant d'art personnel
Vous voulez être informé quand dans nos prochaines ventes aux enchères une œuvre d'art de Pieter Brueghel der Jüngere sera proposée? Veuillez activer votre assistant d'art personnel.
Voulez-vous vendre une œuvre d'art de Pieter Brueghel der Jüngere?
Livrez maintenant Vente privée FAQ

Vos envois sont toujours les bienvenus. Nos experts se feront un plaisir de vous conseiller personnellement, nous nous réjouissons de votre appel.
Contactez nos experts