Votre assistant d'art personnel
Voulez-vous acheter un objet similaire?
Nous vous informons volontiers si des objets similaire vendus dans une de nos prochaines vente aux enchères.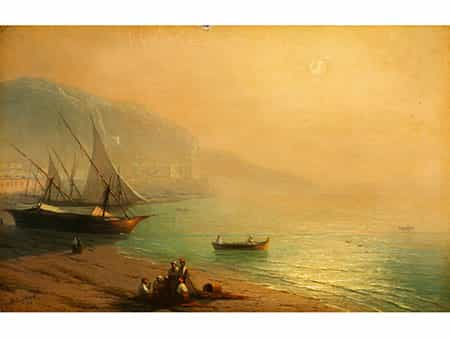 1024
Ivan Constantinovich Aivazovsky,
1817 Feodossija/ Krim - 1900 ebenda
Segelboote an der Krim-Küste Öl auf Holz.
16,8 x 29 cm.
Links unten Signatur sowie Datierung "(18)74".

Dem Gemälde ist eine Kopie der Expertise der Tretyakov State Gallery, Moskau, beigebenen, unterzeichnet mit Tschurak und Gladkova.

Äußerst feine Malweise in nahezu porzellanartiger Glätte, in der eine Küste der Krimhalbinsel gezeigt ist, am Ufer herangezogene Segelschiffe mit abgetakelten Segeln. Am Ufer ein mit zwei Personen besetzter Kahn sowie Fischer mit Netzen am Ufersand. Der Hintergrund diesig, der Horizont im abendlichen Nebelschleier noch erkennbar.
Prix de catalogue € 60.000 - 90.000 Prix de catalogue€ 60.000 - 90.000 $ 63,000 - 94,500
£ 54,000 - 81,000
元 460,800 - 691,200
₽ 6,116,400 - 9,174,600
Provenienz:
Seit 1950 in Privatbesitz. (1040271) (11)


Ivan Konstantinovich Aivazovsky,
1817 Feodosia/ Crimea - 1900 ibid.

SAILING BOATS ALONG THE CRIMEAN COAST

Oil on panel.
16.8 x 29 cm.
Signed and dated "(18)74" lower left.

Accompanied by a copy of an expert's report from the State Tretyakov Gallery, Moscow, signed by Galina Churak and Lydia Gladkova.

Provenance:
Private collection since 1950.
This object has been individually compared to the information in the Art Loss Register data bank and is not registered there as stolen or missing.
Votre assistant d'art personnel
Vous voulez être informé quand dans nos prochaines ventes aux enchères une œuvre d'art similaire sera proposée? Veuillez activer votre assistant d'art personnel.