Your search for Jan Brueghel der Ältere in the auction
16th - 18th Century Paintings

Thursday, 11 December 2014
Your personal art agent
You are interested in works by Jan Brueghel der Ältere?
We are happy to inform you, if works by Jan Brueghel der Ältere are to be auctioned in one of our upcoming auctions.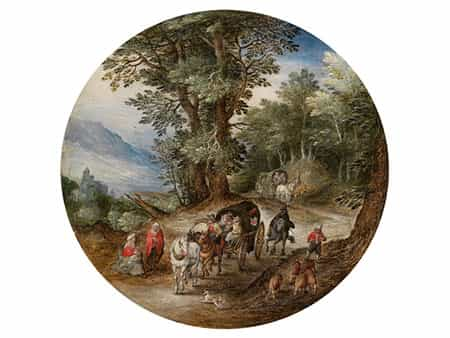 527
Jan Brueghel d. Ä.,
1568 Brüssel – 1625 Antwerpen
WALDSTRASSE MIT PLANWAGEN UND SCHWEINEHERDE,
UM 1610Öl auf Holz.
Durchmesser: 19,4 cm.
Catalogue price € 80.000 - 120.000 Catalogue price€ 80.000 - 120.000 $ 83,200 - 124,800
£ 72,000 - 108,000
元 559,200 - 838,800
₽ 4,344,000 - 6,516,000
Dem Gemälde ist Expertise von Dr. Klaus Ertz vom 13. November 2014 beigegeben.

Das Gemälde ist als Tondo geschaffen. Demgemäß folgt die Komposition dem Rund des Ausblicks in die Landschaft, wobei der Maler in geschickter Weise den steinigen Weg, auf dem die beiden Pferdekarren im Vordergrund ziehen, in einer Biegung wiedergegeben hat. Insgesamt ist die Darstellung aus leicht erhöhter Perspektive gesehen, wobei im Vordergrund der von drei Pferden gezogene Planwagen dem Betrachter entgegen zu rollen scheint, voll besetzt mit einer Familie mit Kind. Die Dominanz dieses bildnerischen Gestaltungselementes wird noch verstärkt und weitergeführt durch die weiter hinten, jedoch in derselben Bildachse stehende Eichenbaumgruppe mit mächtigen Stämmen. Der großrädrige Wagen zeigt eine dunkle Planabdeckung, die sich tonnenförmig über den Karren wölbt, und in dieser dunklen Farbe bereits einen Schwerpunkt in der gestalterischen Komposition des Bildes bietet. Die Seite der Wagenplane ist geöffnet und lässt wie aus einem Fenster noch weitere Personen erkennen. Reiter auf grauem Schimmel. Weiter hinten zieht bereits ein nächster Planwagen den Hohlweg vom zentralen Hintergrund herauf, noch vor der Wegbiegung, die nach vorne führt. Auch hier sitzt ein Mann reitend auf einem der Zugpferde, der Wagen hier in hellerem Licht ebenfalls mit mehreren Personen besetzt. Im Vordergrund seitlich links zwei Frauen, wobei eine ältere in rotem Umhang auf einem Stock gestützt steht, die jüngere als Mutter mit Kind am Boden sitzend trägt einen schirmartigen Hut. Rechts im Bild ein junger Schweinehirt mit Kegelhut und Stock, der seine Tiere in den Vordergrund treibt. Sowohl in kompositioneller Hinsicht als auch als erzählerische Zugabe ist im unteren Vordergrund ein Hündchen gezeigt, den vorderen Schimmel offensichtlich anbellend, der sich entsprechend dem Hund zuwendet. Die mittlere mächtige Baumgruppe bildet eine Zäsur in der Darstellung des Landschaftlichen, rechts bildet ein Waldrand die Kulisse des heraufziehenden Planwagens, links senkt sich das Gelände in ein weites, im dunstigen Nebel liegendes Tal mit seitlich hochziehenden blauen Bergketten, davor erhebt sich zwischen den Wipfeln eines jungen Laubwaldes die Silhouette einer Burganlage mit Spitzhaubenturm und eng aneinander geschachtelten Bauten. Die vielzeiligen Bildelemente hat der Maler kompositionell geschickt dadurch beruhigt, dass neben der kräftigen Vertikale der nach oben sich keilförmig weitenden Baumgruppe auch die Bergzüge links sowie der Kamm der Baumwipfel rechts V-förmig komponiert sind. Bei genauerer Kompositionsanalyse lässt sich erkennen, dass die gesamte Bilddarstellung insgesamt nach dem Prinzip eines Speichenrades aufgebaut ist. Sämtliche kompositorische Diagonalen und Linien folgen einem strahlenartigen, radialen Prinzip mit einzelnen Segmenten. Dem Rund des Bildrandes folgt rechts ein angeschnittener, sich jedoch dem Rund der Bildbegrenzung anschmiegender Baumstamm mit Eichenblättern. Der bewegten graphischen Komposition hat der Maler farbkompositionell im unteren, schweren Teil des Bildes eine Horizontale entgegengesetzt, in dem die Rottöne in den Kleidungsstücken eine untere, liegende, betonende Achse bilden: von der sitzenden Mutter über die stehende Frau hinweg im Zentrum das Rot im Wams des Reiters und schließlich abgeschlossen durch die rote Jacke des Schweinehirten. Der farblichen Schwere im Unterteil des Bildes setzt der Maler feine, fleckenhaft getupfte weiße Lichter in das Laubwerk der Kronen, so besonders rechts oben im Laub der schlank-stämmigen Waldrandbäume, eine helle Laubzone, die wiederum dem hellen Firmament links im Bild entspricht, verbunden durch die hell beleuchteten Äste der mächtigen mittleren Baumgruppe. Das Gemälde insgesamt fein malerisch ausgeführt, auch in der gekonnten Zittrigkeit der Laubbehandlung wie dies ein Merkmal des Malstiles des Künstlers ist. (991181)


Jan Brueghel the Elder,
1568 Bruxelles – 1625 Antwerp

FOREST ROAD WITH COVERED CART AND SWINE FLOCK, c. 1610

Oil on panel.
Diameter: 19.4 cm.

The painting is accompanied by an expert's report by Dr. Klaus Ertz, dated 13 November 2014.
This object has been individually compared to the information in the Art Loss Register data bank and is not registered there as stolen or missing.
Your personal art agent
You would like to be informed of upcoming auctions if a work by Jan Brueghel der Ältere is offered? Activate your personal art agent here.