Your search for Tobias Andreae in the auction
19th - 20th Century Paintings

Thursday, 25 September 2014
Your personal art agent
You are interested in works by Tobias Andreae?
We are happy to inform you, if works by Tobias Andreae are to be auctioned in one of our upcoming auctions.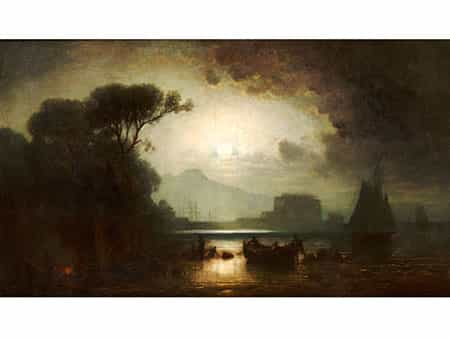 369
Tobias Andreae,
1823 Frankfurt – 1873 München
BLICK AUF DEN GOLF VON NEAPEL BEI VOLLMOND Öl auf Leinwand.
70 x 120 cm.
Rechts unten signiert und ortsbezeichnet "München".
Catalogue price € 6.000 - 8.000 Catalogue price€ 6.000 - 8.000 $ 6,300 - 8,400
£ 5,400 - 7,200
元 43,980 - 58,640
₽ 396,300 - 528,400
Das Nachtbild zeigt den Blick vom Ufer über die Bucht hinweg auf den gegenüberliegenden Höhenzug, der im nebligen Schatten steht, rechts davon die ins Meer hineinragende Zitadelle. Im Zentrum der nächtlichen Wolkenstimmung der aufgehende Vollmond, der sich im Wasser spiegelt, seitlich eingefasst von einer Baumgruppe links sowie einem höheren Segelschiff an der rechten Bildseite. Im vorderen Zentrum ein ans Ufer gezogener Fischerkahn mit Figurenstaffage. (981422) (11)
This object has been individually compared to the information in the Art Loss Register data bank and is not registered there as stolen or missing.
Your personal art agent
You would like to be informed of upcoming auctions if a work by Tobias Andreae is offered? Activate your personal art agent here.