Your search for Christofano Allori in the auction
16th - 18th Century Paintings

Thursday, 26 June 2014
Your personal art agent
You are interested in works by Christofano Allori?
We are happy to inform you, if works by Christofano Allori are to be auctioned in one of our upcoming auctions.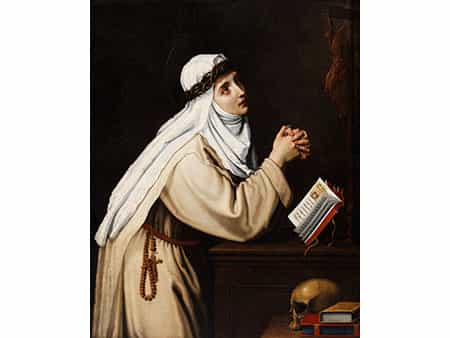 231
Christofano Allori,
1577 – 1621, zug.
SANTA CATERINA DI SIENA Öl auf Leinwand. Doubliert.
117 x 94 cm.
Catalogue price € 20.000 - 30.000 Catalogue price€ 20.000 - 30.000 $ 20,800 - 31,200
£ 18,000 - 27,000
元 139,800 - 209,700
₽ 1,086,000 - 1,629,000
Vor einem dunklen, unbestimmten Innenraum ein hölzerner Altaraufbau mit rechts am Bildrand stehendem Kreuz mit hell erleuchtetem Corpus Christi. An dem Kreuz eine aufgeschlagene Bibel lehnend, vor welcher eine nach rechts gerichtete, in weißer Gewandung widergegebene Heilige darstellt ist, welche auf das Kreuz emporblickt. In der unteren rechten Ecke übereinandergeschichtete Bücher verschiedener Größe und Totenschädel als Vanitassymbol. Rückseitig mit Besitzervermerk. (9710112)
This object has been individually compared to the information in the Art Loss Register data bank and is not registered there as stolen or missing.
Your personal art agent
You would like to be informed of upcoming auctions if a work by Christofano Allori is offered? Activate your personal art agent here.