Your search for George Henry Andrews in the auction
16th - 18th Century Paintings

Friday, 28 March 2014
Your personal art agent
You are interested in works by George Henry Andrews?
We are happy to inform you, if works by George Henry Andrews are to be auctioned in one of our upcoming auctions.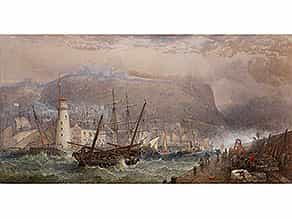 1139
George Henry Andrews,
1816 Lambeth – 1898, zug.
Über die künstlerische Bildung von George Henry Andrew ist nichts bekannt, da er zunächst zum Ingenieur ausgebildet worden war. Er war ab den 1830er Jahren vor allem als Künstler-Korrespondent tätig und betätigte sich auch als Illustrator. 1860 begleitete er u.a. den späteren König Edward VII auf seine Reise nach Amerika und Kanada, hatte zuvor Ägypten besucht. Seine Reisezeichnungen fanden weite Verbreitung in den Illustrated London News. Als Mitglied der renommierten Old Watercolour Society stellte Andrews seine Arbeiten dort zwischen 1840 und 1850 aus und ab 1850 bis 1893 in der Royal Academy.
Catalogue price € 10.000 - 15.000 Catalogue price€ 10.000 - 15.000 $ 10,400 - 15,600
£ 9,000 - 13,500
元 69,900 - 104,850
₽ 543,000 - 814,500
HEIMKEHR BEI STÜRMISCHER SEEMischtechnik auf chamoisfarbenem Papier.
55 x 95 cm.

Unser vorliegendes Blatt zeigt mehrere Schiffe, die bei stürmischer See den sicheren Hafen anlaufen. Ein Teil der gelöschten Ladung befindet sich schon an Land. Über der Szene thront eine Burganlage auf einem hohen Felsplateau. Sie weist auf die britische oder auch französische Steilküste hin, wo sich der Künstler vermehrt ab 1870 aufhielt. Möglicherweise handelt es sich um eine Ansicht von Tynemouth Castle in Northumberland. Lichtrand und minimal vergilbt, leichte Kratzer und stellenweise feines Craquelé. (960202)


George Henry Andrews,
1816 Lambeth - 1898, attributed
Mixed technique on Chamois-hued paper.
55 x 95 cm.
This object has been individually compared to the information in the Art Loss Register data bank and is not registered there as stolen or missing.
Your personal art agent
You would like to be informed of upcoming auctions if a work by George Henry Andrews is offered? Activate your personal art agent here.