Auction

Porcelain, silver, rock crystal
Your personal art agent
You would like to purchase a similar object?
We are happy to inform you, if similar works are to be auctioned in one of our upcoming auctions.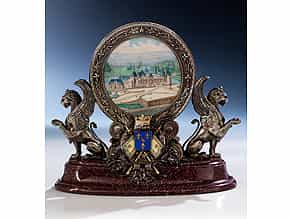 275
† P. H. Emil Froment-Meurice,
1837 - 1913
Höhe: 21 cm.
Länge: 22,5 cm.
Maße der Lederkassette: Höhe: 24 cm.
Breite: 28 cm.
Tiefe: 17 cm.
Marken: Silberschmiedmarke auf der Volute graviert, das Gemälde rechts unten signiert "Mlle M. Doll 1888 pinxit", die Elfenbeinplatte unten signiert und datiert "1887".
Catalogue price € 38.000 - 42.000 Catalogue price€ 38.000 - 42.000 $ 39,520 - 43,680
£ 34,200 - 37,800
元 265,620 - 293,580
₽ 2,063,400 - 2,280,600
Höchst qualitätvoller, höfischer Schreibtisch-Gedenkaufsatz mit Reliefportrait des Duc D'Aumale (1886 - 1888) in Elfenbein. Gefertigt in Silber, Porphyr und Elfenbein. Entwurf von Honoré Daumet (1826 - 1911), gefertigt von P. H. Emil Froment-Meurice, das Elfenbeinrelief geschnitzt von Jules-Clément Chaplain (1883 - 1909). Beidseitig künstlerisch gestaltet und frei aufstellbar, an der Rückseite Aquarell auf Elfenbein von M. Dollé, der Wappenzierrad modelliert von Germain und emailliert von Ferin.
Aufbau in Form eines querliegenden, ovalen Sockels mit umlaufender Kehle und feinen Profilen, darauf erhebt sich mittig ein in Silber gearbeiteter Sockel mit Wappen und Krone an der einen und mit Widmungskartusche an der anderen Seite. Der Sockel trägt einen hochstehenden, runden Rahmen, in dem an der Widmungsseite das Kopfportrait des Herzogs nach rechts in Elfenbein eingelassen ist. An der Gegenseite die auf Elfenbein gemalte Ansicht des Schlosses Chantilly, die gravurbeschriftete Kartusche trägt die Aufschrift "AMICO/ EDUARDO BOCHER/IN MEMORIAM/VII.A.KAL.NOV./ MDCCCLXXXVI" (dem Freund Eduardo Bocher in Erinnerung an den 7. Tag des Kalenders November 1884), darunter weitere Kartusche mit dem ligierten Monogramm "HE" - für den Auftraggeber des Objekts Prinz Henri d'Orléans Herzog von Aumale (1822 - 1897). In originaler, lederbezogener Kassette mit zwei vergoldeten Schließen, Innenauskleidung in smaragdgrünem Samt und Seide.

Anmerkung:
Der Auftraggeber war der fünfte Sohn von König Louis Philippe von Frankreich. Aus politischen Gründen musste der Prinz 1886 Frankreich verlassen und in Befürchtung, dass das Château vom Staat konfisziert werden würde, überließ er eine nicht unerhebliche Stiftung an das Institut de France am 25. Oktober 1886. Einzelne, wenige Personen, die mit dem legalen Transfer beauftragt wurden, beschenkte der Auftraggeber mit diesen Tischskulpturen, darunter Edouard Bocher, Enrico Limbourg, Ernest Denormandie und Edmundo Rousse. Um die Ehrerbietung zu zeigen, beauftragte der Prinz den führenden Silberschmied des Landes Froment-Meurice mit vier solcher Tischskulpturen um sie den Freunden zu Ehren zu geben. Das vorliegende Tischdenkmal ist Eduardo Bocher gewidmet. Ein weiteres solches Objekt befindet sich heute im Musée Condé in Chantilly. Das an die Normandie geschenkte Exemplar wurde in der Ausstellung "Trésors d'Argent" gezeigt. Der Verbleib der weiteren Exemplare ist unbekannt. Aufgrund seiner Stiftungsdotierung konnte der Herzog 1889 aus dem Exil nach Frankreich zurückkehren, dem Anlass und Zweck entsprechend ist das Tischdenkmal mit dem Portrait des Herzogs dekoriert, an der Rückseite das Schloss Chantilly, darunter die emaillierten Wappen der Bourbon-Condé-Familie.

Literatur:
Der geschichtliche Hintergrund sowie die Provenienz sind ausführlich dokumentiert und besprochen in:
Musée de la Vie Romantique, Trésors d'Argent - Les Froment-Meurices, Katalog für die Ausstellung 4. Februar - 15. Juni 2003, S- 147 - 158.

Provenienz:
Geschenke des Prinz Henri D'Orléans, Duc d'Aumale (1822 - 1897) an Edouard Bocher (1888). Privatsammlung London. (930104)


P. H. Emil Froment-Meurice,
1837 - 1913
Courtly desk top stand with commemorative ivory relief portrait of the Duc D'Aumale (1886 - 1888) in ivory.
This object has been individually compared to the information in the Art Loss Register data bank and is not registered there as stolen or missing.
Your personal art agent
You would like to be informed of upcoming auctions if a similar work of art is offered? Activate your personal art agent here.