Your search for Frans Floris in the auction
16th - 18th Century Paintings

Thursday, 6 December 2012
Your personal art agent
You are interested in works by Frans Floris?
We are happy to inform you, if works by Frans Floris are to be auctioned in one of our upcoming auctions.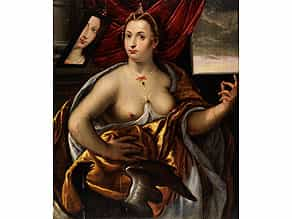 403
Frans Floris,
1517 Antwerpen – 1570
ALLEGORIE DES GESICHTES Öl auf Holz. Parkettiert.
95,8 x 81,3 cm.
Ohne Rahmen.
Catalogue price € 18.000 - 22.000 Catalogue price€ 18.000 - 22.000 $ 18,720 - 22,880
£ 16,200 - 19,800
元 125,820 - 153,780
₽ 977,400 - 1,194,600
Halbfigur einer weiblichen Allegorie aus dem Zyklus der fünf Sinne. Hier ist der Augensinn gemeint, weswegen die im Halbakt wiedergegebene, jugendliche Gestalt mit einem Spiegel dargestellt wird, der seitlich schräg an einem Band am Sockel einer Säule angebracht ist und in dem das Gesicht von der Seite wiedergespiegelt wird. Entsprechend dem Vergnügen des Sehens zeigt die jugendlich wiedergegebene Dame ihre Reize, aber auch den eleganten Hals- und Kopfschmuck. Ferner hat der Maler in sinnlicher Absicht das Goldglänzen ihres Mantels zur Wirkung gebracht. Davor ein Adler mit ausgebreiteten Flügeln, Sinnbild der extremen Sehkraft dieser Vögel. Rechts in der oberen Ecke Fensterausschnitt mit Blick in die Wolken. Der Kopf hinterlegt von einem roten Velum, dessen Farbe mit der Schleife in der Perlenkette korrespondiert.

Literatur:
A. Marchi, "Corpo, amore e sentimento" Ausstellungskatalog San Marino Galleria San Marino, Palazzo Arzilli, 27. Juli - 18. September 2011, S. 36 - 37 mit farbiger Abbildung. (8806413)
This object has been individually compared to the information in the Art Loss Register data bank and is not registered there as stolen or missing.
Your personal art agent
You would like to be informed of upcoming auctions if a work by Frans Floris is offered? Activate your personal art agent here.