Auction

16th - 18th Century Paintings
Your personal art agent
You would like to purchase a similar object?
We are happy to inform you, if similar works are to be auctioned in one of our upcoming auctions.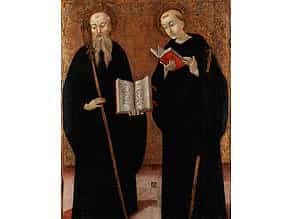 223
Meister der italienischen Schule des 15. Jahrhunderts
TAFELBILD MIT DARSTELLUNG ZWEIER HEILIGER BENEDIKTINERMÖNCHE Öl/ Tempera und Goldgrund auf Weichholz. Verso zwei Parkettierleisten.
88 x 68 cm.
Ohne Rahmen.
Catalogue price € 40.000 - 50.000 Catalogue price€ 40.000 - 50.000 $ 39,600 - 49,500
£ 36,000 - 45,000
元 280,800 - 351,000
₽ 2,428,000 - 3,035,000
Die beiden Gestalten nahezu ganzfigurig wiedergegeben, links ein alter, bärtiger Mönch mit Abtstab und geöffnetem, dem Betrachter zugewiesenem Buch, rechts ein junger Mönch mit Tonsur, der in einem rot eingebundenen Gebetbuch liest, ebenfalls mit einem Abtstab ausgestattet. Der Hintergrund als punzierter Goldgrund gearbeitet, der Standboden in rötlichem Grau mit quadratischem Paviment, Bodeneinlagen und Schattenandeutung, die Sutanen am Unterrand angeschnitten. (870341)


A 15th Century Master of the Italian School
Oil/ tempera and gold ground on soft wood.
On the back parquetted with two pieces of wood.
88 x 68 cm.
This object has been individually compared to the information in the Art Loss Register data bank and is not registered there as stolen or missing.
Your personal art agent
You would like to be informed of upcoming auctions if a similar work of art is offered? Activate your personal art agent here.