Your search for William Anderson in the auction
16th - 18th Century Paintings

Tuesday, 19 June 2012
Your personal art agent
You are interested in works by William Anderson?
We are happy to inform you, if works by William Anderson are to be auctioned in one of our upcoming auctions.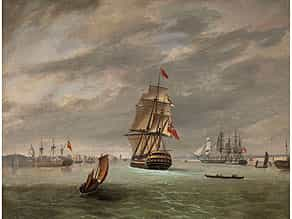 296
William Anderson,
1757 - 1837, zug.
MARINEBILD MIT DEM SCHIFF VON ADMIRAL NELSON Öl auf Leinwand.
57 x 76 cm.
Unsigniert, Bezeichnung des Künstlers auf dem Künstlernamensschild auf dem Rahmen.
Catalogue price € 20.000 - 25.000 Catalogue price€ 20.000 - 25.000 $ 20,800 - 26,000
£ 18,000 - 22,500
元 139,800 - 174,750
₽ 1,086,000 - 1,357,500
Blick über die Bucht von Portsmouth mit zahlreichen Kriegsschiffen, darunter die Segler Victory und Prince, im Zentrum das Schiff des Admirals Nelson "La Rose" mit gehissten Segeln, der englischen Flagge und weiteren Wimpeln. Zwischen den Schiffen Kähne und kleinere Segler, im Hintergrund die Hafenstadt. Dargestellt ist die Szene, in der das Schiff in Begleitung der ge- nannten Segler den Hafen von Portsmouth verlässt. (860712)


William Anderson,
1757 - 1837, attributed to
Oil on canvas.
57 x 76 cm.
This object has been individually compared to the information in the Art Loss Register data bank and is not registered there as stolen or missing.
Your personal art agent
You would like to be informed of upcoming auctions if a work by William Anderson is offered? Activate your personal art agent here.