Your search for A. Bonnier in the auction
19th - 20th Century Paintings

Friday, 16 September 2011
Your personal art agent
You are interested in works by A. Bonnier?
We are happy to inform you, if works by A. Bonnier are to be auctioned in one of our upcoming auctions.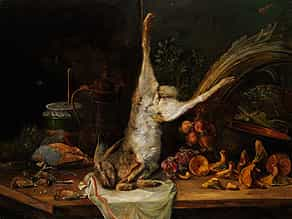 1202
Maler des 19. Jahrhunderts
GROSSES JAGDSTILLEBEN MIT WILDHASEN UND FEDERVIEHÖl auf Leinwand. Doubliert.
89 x 116 cm.
Rechts oben signiert "A. Bonnier" und datiert "1823".
Catalogue price € 3.000 - 4.000 Catalogue price€ 3.000 - 4.000 $ 3,120 - 4,160
£ 2,700 - 3,600
元 20,970 - 27,960
₽ 162,900 - 217,200
Dekoratives, rustikales Küchenstillleben mit einem Wildhasen, erlegtem Vedervieh, Gemüse und Pilzen, dazwischen Kanne, Kupferkessel und Tontopf. Die Gegenstände auf einem Küchentisch über Serviettentuch ausgebreitet und stilllebenhaft arrangiert. Die wirkungsvolle Beleuchtung von links oben lässt den Hintergrund verschattet. Rest.(830383)
This object has been individually compared to the information in the Art Loss Register data bank and is not registered there as stolen or missing.
Your personal art agent
You would like to be informed of upcoming auctions if a work by A. Bonnier is offered? Activate your personal art agent here.