Your search for Justus Sustermans in the auction
Old Master Paintings

Friday, 25 March 2011
Your personal art agent
You are interested in works by Justus Sustermans?
We are happy to inform you, if works by Justus Sustermans are to be auctioned in one of our upcoming auctions.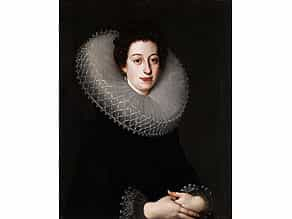 280
Justus Sustermans,
1597 Antwerpen - 1681 Florenz,
zug./ Art des
HOLLÄNDISCHES DAMENPORTRAIT Öl auf Leinwand.
77 x 61 cm.
Verso alte Inventarbezeichnung "R".
Catalogue price € 4.000 - 4.500 Catalogue price€ 4.000 - 4.500 $ 4,200 - 4,725
£ 3,600 - 4,050
元 29,320 - 32,985
₽ 264,200 - 297,225
Halbbildnis einer jugendlichen, nach rechts sitzenden Dame in schwarzem Kleid mit breitem Halskragen, die Ärmel mit Spitzen besetzt. Die Kranzdekoration der Halskrause mit Perlen bestickt. Das lockige Haar rahmt das hell beleuchtete Gesicht mit aufmerksamem Blick, der dem Betrachter zugewandt ist. Am Ohr eine weitere große, ovale Barockperle. Die Lippen betont gerötet. Das helle Inkarnat des Gesichtes korrespondiert mit den ineinander genommenen Händen in feiner Malkultur. (811746)
This object has been individually compared to the information in the Art Loss Register data bank and is not registered there as stolen or missing.
Your personal art agent
You would like to be informed of upcoming auctions if a work by Justus Sustermans is offered? Activate your personal art agent here.