Your personal art agent
You would like to purchase a similar object?
We are happy to inform you, if similar works are to be auctioned in one of our upcoming auctions.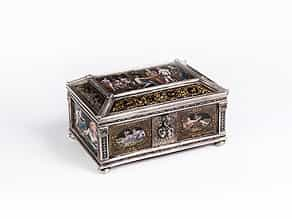 1185
Silberschatulle mit Emailmalerei
Höhe: 11,5 cm.
Länge: 22 cm.
Tiefe: 14,5 cm.
Frankreich, um 1860/70.
Catalogue price € 3.800 - 4.800 Catalogue price€ 3.800 - 4.800 $ 3,762 - 4,752
£ 3,420 - 4,320
元 26,676 - 33,696
₽ 230,660 - 291,360
Silberschatulle in Form einer rechteckigen Truhe, der gerade Deckel seitlich angeschrägt. Truhe über vier gequetschten Kugelfüßen. Profilbänderungen mit Blattwerkdekoration, an den Ecken Pilaster mit Muschelkapitellen. Die Wandung, die Anschrägung des Deckels sowie die Deckelplatte mit Emailmalereien dekoriert: Auf dem Deckel mehrfigurige Szenerie, die den jugendlichen Paris vor den drei Grazien zeigt, er übergibt der Schönsten der Grazien, Venus den goldenen Apfel. Im Hintergrund drei weitere Mädchenaktfiguren mit Gefäßen, an Vorder- und Rückseite emaillierte Ovalkartuschen mit Jahreszeitendarstellungen, an den Seiten ebenfalls antik-mythologische Szenen: nackte Venus unter einem Baum, davor Amor, der sich von Vulkan die Pfeile schmieden lässt. Im landschaftlichen Hintergrund ein rauchender Vulkan. An der Gegenseite die meerschaumgeborene Venus in einer Muschel mit rotem Velum und Nereiden. Die Deckelanschrägung emailliert mit den Tierkreiszeichen in Rollwerkkartuschen. Innen mit rotem Damast ausgekleidet, Schlüsseleinführung verdeckt durch weibliche Büste, zwei Schlüssel vorhanden. (79136130)


Silver box with enamel painting
Height: 11.5 cm.
Length: 22 cm.
Depth: 14.5 cm.
France, about 1860/ 70.
This object has been individually compared to the information in the Art Loss Register data bank and is not registered there as stolen or missing.
Your personal art agent
You would like to be informed of upcoming auctions if a similar work of art is offered? Activate your personal art agent here.