Auction

A Private Collection of Ivory Works of Art
Your personal art agent
You would like to purchase a similar object?
We are happy to inform you, if similar works are to be auctioned in one of our upcoming auctions.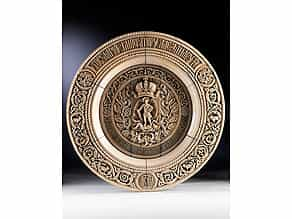 989
Große russische Elfenbeinschale
Höhe: ca. 4 cm.
Durchmesser: 44,5 cm.
St. Petersburg, 1880/ 1881.
Catalogue price € 25.000 - 30.000 Catalogue price€ 25.000 - 30.000 $ 26,250 - 31,500
£ 22,500 - 27,000
元 183,250 - 219,900
₽ 1,651,250 - 1,981,500
Widmungs- oder Schauteller. Breitrandiger Teller, die Fahne gefertigt aus sechs, der Spiegel aus drei massiven Elfenbeinplatten. Im Spiegelzentrum russische Zarenkrone über einer wappenförmig eingefassten Darstellung des Heiligen Michaels über der Satansgestalt mit Flammenschwert, Kreuzschild und großen Schwingen sowie Helmen mit Straußenfederbusch. Das Wappen seitlich eingefasst durch einen Eichenblattkranz, der an der Unterseite gebunden ist, dessen Bandschleifen sich durch die Blätter nach oben ziehen. Die ins Hochplastische ziehende Reliefdarstellung umgeben von einem breiten Bandring mit Blattdekoration sowie im Halbkreis verlaufender russischer Inschrift in kirchenslawischen Buchstaben. Glatter Fahnenanstieg, die Fahne selbst innen und außen mit Kordelmotiv hochplastisch eingefasst. Darin wiederum tiefst geschnittenes Akanthusblattfries, zwischen den Blattvoluten vierfach Tiere eingeschnitzt: Hirsch und Rind im Wechsel. Im Oberrand ebenfalls kyrillisches Schriftband, unten Rundmedaillon mit Beschriftung, verso Widmungsgravur "1821 den ersten Oktober". In kyrillischer Kursivschrift Widmungsaufschriften. (8018640)


Small ivory showpiece goblet
Height: 24 cm.
19th century.
This object has been individually compared to the information in the Art Loss Register data bank and is not registered there as stolen or missing.
Your personal art agent
You would like to be informed of upcoming auctions if a similar work of art is offered? Activate your personal art agent here.