Your personal art agent
You would like to purchase a similar object?
We are happy to inform you, if similar works are to be auctioned in one of our upcoming auctions.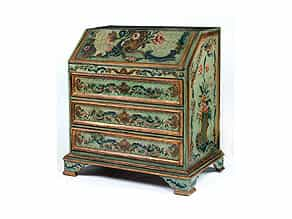 37
Barock-Schreibkommode
Höhe: 102 cm.
Breite: 97 cm.
Tiefe: 60 cm.
Italien, 18. Jahrhundert.
Catalogue price € 12.000 - 16.000 Catalogue price€ 12.000 - 16.000 $ 13,200 - 17,600
£ 10,800 - 14,400
元 85,080 - 113,440
₽ 1,118,400 - 1,491,200
Gerader Nadelholzkorpus. Über dreischübigem Kommodenteil die aufklappbare Schrägklappe vor Facheinteilung. Reiche polychrome Fassung, teils vergoldet. Bronzezugringe, vergoldeter Messingbeschlag. Rückwand erg. Altersspuren. (8016815)


Baroque writing desk
Height: 102 cm.
Width: 97 cm.
Depth: 60 cm.
Italy, 18th century.
This object has been individually compared to the information in the Art Loss Register data bank and is not registered there as stolen or missing.
Your personal art agent
You would like to be informed of upcoming auctions if a similar work of art is offered? Activate your personal art agent here.