Your search for Eduard von Grützner in the auction
19th - 20th Century Paintings

Friday, 3 December 2010
Your personal art agent
You are interested in works by Eduard von Grützner?
We are happy to inform you, if works by Eduard von Grützner are to be auctioned in one of our upcoming auctions.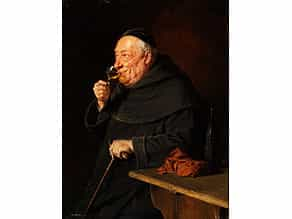 398
Eduard von Grützner,
1846 Großkarlowitz - 1925 München
BENEDIKTINER-MÖNCH MIT WEIN BEIM FRÜHSCHOPPEN Öl auf Holz.
33 x 25 cm.
Rechts oben signiert.
Catalogue price € 6.000 - 8.000 Catalogue price€ 6.000 - 8.000 $ 6,300 - 8,400
£ 5,400 - 7,200
元 43,980 - 58,640
₽ 396,300 - 528,400
Dreiviertelfigur, der Mönch in schwarzer, leicht abgeschabter Arbeitskutte, an einen Holztisch gelehnt, mit einem Spazierstock, dessen Griff zu einer heiteren Maske geschnitzt ist. Auf dem Tisch Weinflasche und rotes Schnupftuch. Genüsslich zieht er sich den edlen Tropfen des Weißweins ein. Mit glasigem Blick nach oben. Das hell beleuchtete, schmunzelnde Gesicht des Alten wirkungsvoll vor dunklem Hintergrund. (801561)

Literatur:
Original dieses Gemälde ist abgebildet im Werkverzeichnis von Laszlo Balogh, S. 184, Nr. 188.


Eduard von Grützner,
Großkarlowitz 1846 - Munich 1925
Oil on panel.
33 x 25 cm.
Signed at the upper right.

Literature:
Illustrated in the catalogue raisonné by Laszlo Balogh, p. 184, No. 188.
This object has been individually compared to the information in the Art Loss Register data bank and is not registered there as stolen or missing.
Your personal art agent
You would like to be informed of upcoming auctions if a work by Eduard von Grützner is offered? Activate your personal art agent here.