Your search for Carl Spitzweg in the auction
19th - 20th Century Paintings

Friday, 3 December 2010
Your personal art agent
You are interested in works by Carl Spitzweg?
We are happy to inform you, if works by Carl Spitzweg are to be auctioned in one of our upcoming auctions.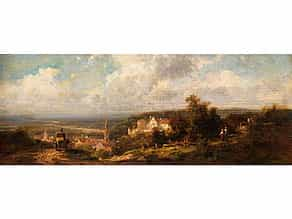 515
Münchner Maler in Art von Carl Spitzweg und Willy Moralt
LANDSCHAFT MIT BLICK VON EINER ANHÖHE INS WEITE TAL Öl auf Holz.
27,5 x 11 cm.
Catalogue price € 2.300 - 2.500 Catalogue price€ 2.300 - 2.500 $ 2,392 - 2,600
£ 2,070 - 2,250
元 16,077 - 17,475
₽ 124,890 - 135,750
Mit einer nach unten ziehenden Postkutsche, im Zentrum herrschaftlicher Gebäudekomplex. Weiter unten Städtchen mit hochziehenden Kirchtürmen, rechts zwei Frauengestalten unter Bäumen. (8001926)
Your personal art agent
You would like to be informed of upcoming auctions if a work by Carl Spitzweg is offered? Activate your personal art agent here.